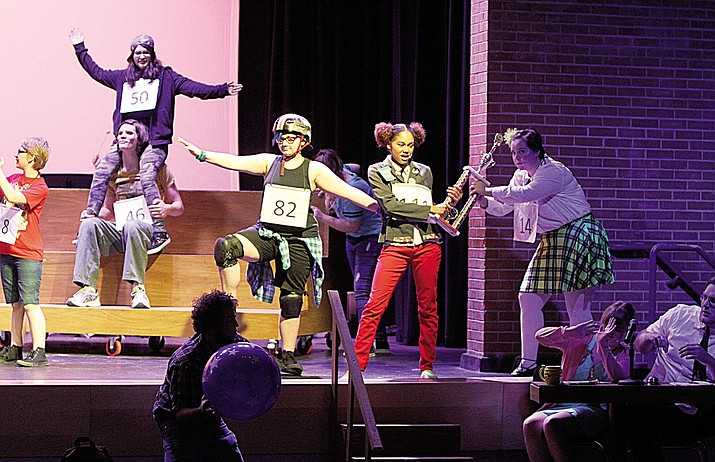 Photo by JC Amberlyn.
Originally Published: April 6, 2017 5:58 a.m.
KINGMAN – Lee Williams High School theater teacher Sarah Kucharek is shouting out directions to her lighting and tech crew as she prepares for a rehearsal for the production of "The 25th Annual Putnam County Spelling Bee."
She wants a little higher contrast here, a different color shade there.
And with her boisterous voice, she's giving direction to about 50 cast, crew and musicians that make up the fourth collaboration between Lee Williams and Kingman high schools under KingLee Production.
The show opens at 7 p.m. tonight at Lee Williams High School Auditorium and runs through Saturday. Admission is $7. The school's American Sign Language club will interpret tonight's performance.
Kucharek said the improvisational play was developed into a musical, and she thought it would be fun and creative for the students to perform.
"I kind of fell in love with the play because it has tremendous humor that the students and audience would love," the teacher and director said during Wednesday's dress rehearsal. "It also covers themes of why we're here, with all the pressure on winning and high expectations."
Each student has a personal reason for competing in the spelling bee and wanting to win, while dealing with their own insecurities.
One of the characters is a bully who only bullies to prevent being bullied, and the bully slowly fades away until the real person emerges from under the façade.
Another girl looks for her parents in the audience, but they're not there, so the play is humorous and fun, but also a commentary on what kids go through in their microcosmic world, Kucharek said.
Ultimately, they're all coming to the bee asking to be accepted by their fellow spellers.
"They want to win, and the reason is so you'll accept me, love me," Kucharek said.
While the comedic aspect of "Spelling Bee" was an immediate draw, Kucharek said she needed to direct the show because of the voice it gives to each character.
"Each of our characters wants to be accepted and loved, and if that's not an allegory to life, I'm not certain what is," she said.
Musicians are under the direction of Gregory Chenoweth, with Christine Chenoweth directing the singers. The poster and program was produced by the school's advanced graphic arts design class.
More like this story