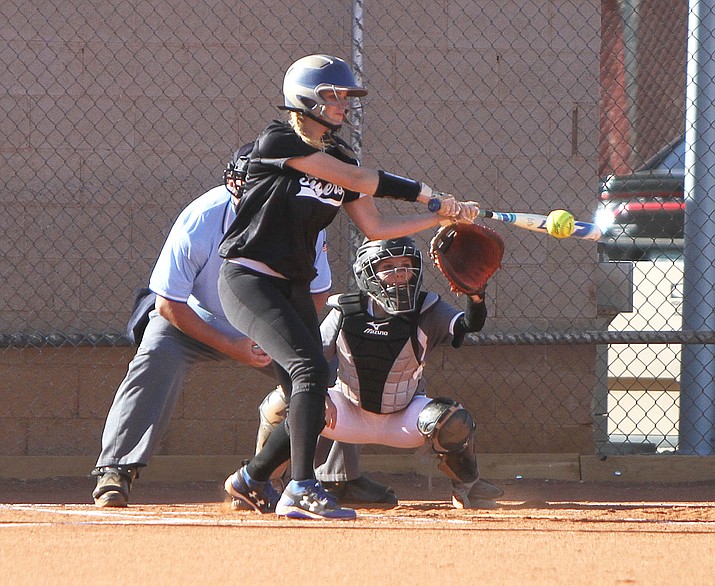 Photo by JC Amberlyn.
Originally Published: April 6, 2017 5:59 a.m.
KINGMAN – Kingman Academy High School's softball team scored early and often Tuesday in defeating Trivium Prep, 11-2, at Southside Park.
Randa Short pounded out three hits and drove in two runs for the Lady Tigers, and Marissa Edwards pitched a complete-game seven innings with 10 strikeouts.
Sophomore Vanessa Blanco is hitting .800 for Kingman Academy with an .833 on-base percentage.
"The girls did a good job making adjustments at the plate and putting the ball in play," Kingman Academy coach Tim Pena said. "Marissa threw really well and got a lot of ground balls."
The Lady Tigers saw Trivium Prep's best pitchers last week, and took note of their 60 mph speed and good change-ups.
"So they got their foot down early and (did) not worry about their swing," Pena said. "We did a good job barreling up. I'm happy with the girls. That's something we talked about, getting their front foot down early on."
Ashley Steed filled in for Jillian Winters in the leadoff spot and delivered a couple base hits and couple walks, and made a key catch in right field.
"We threw her into the fire to see what she could do," Pena said.
Kingman Academy (8-2 2A Conference, 4-0 West Region) was scheduled to play River Valley at 3:45 p.m. Wednesday at Southside.
More like this story