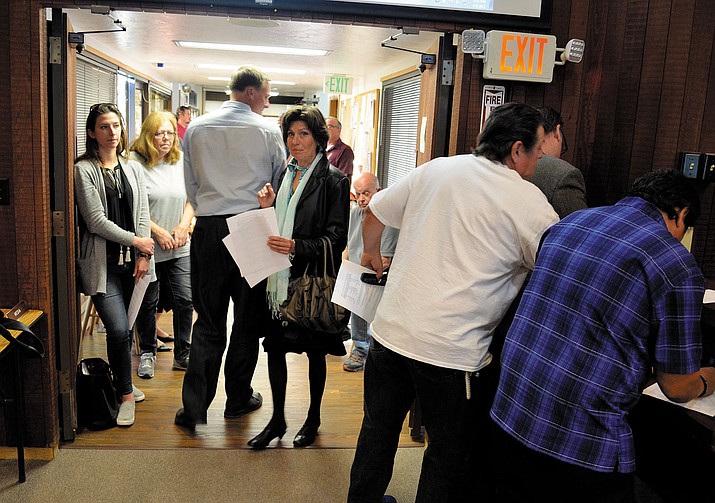 Photo by Aaron Ricca.

Originally Published: April 7, 2017 5:59 a.m.
KINGMAN – It's time to start serving coffee at Kingman City Council meetings.
General discussion and possible action regarding the consideration of hiring a full-time economic development director for the city took up almost half of the two-hour, 21-minute meeting.
A lengthy presentation by Councilman David Wayt, another wordy statement about the history of ownership of economic development by Councilman Travis Lingenfelter, and a melee of verbal sword fighting between council and the public eventually led the Council to vote 6-1 (Mayor Monica Gates dissenting) in favor of directing City Manager John Dougherty to start the hiring process.
"I promise it will only be five-ish minutes," Wayt said to Mayor Monica Gates as he fired up a presentation about the roles a potential director would play.
Some of those roles would include assessing the city's needs and determining how to best match those needs, attracting new investment and development, developing financial programs, managing grants and marketing the community's attributes.
As far as implementing a strategic plan for commercial growth and development, Wayt felt a city employee might have the upper hand.
"A town hall proposal to some degree is masking some of the other benefits," Wayt said. "There are certain attributes that an economic developer could bring that would be valuable for our city.

"These are things that economic development directors from other cities are doing," he added.

Wayt was concerned about spending taxpayer dollars on outside studies without being able to implement results. He mentioned the Buxton Group, the Texas customer analytics firm hired by the city last year for a three-year, $160,000 contract to help Kingman market itself, as an example.
"We hire these people to use taxpayer dollars and we haven't seen any of the fruits of these plans," he said.
The economic development director would act as a liaison between the city and businesses seeking opportunities to locate or expand their operations in Kingman as well as assist with marketing.

"This is one of the reasons we need a director now," he said. "We've already spent a significant amount of money on these things and we need someone to help push these through."
Hiring a director could conflict with the proposed hiring of Arizona Town Hall to facilitate discussion and fire up local economic development efforts.
Hiring time constraints were mentioned.
Wayt said he's spoken with Arizona Town Hall President Tara Jackson, who he said thought it would be a good idea to hire an economic director.

"She cautioned that if the community is ready, to not hold off too long if the people want to move on," he said. "She said more than six months would be too long."
She reportedly also said when people hire her group, the standard for the first town hall meeting is two to three months.
"I feel that two to three months is plenty of time for our city manager to hire an economic development director," he said.
Councilman Travis Lingenfelter discussed the complications of public-private ownership of an economic director, budgets and vacancies that could be filled by a director and the benefits of having someone who could work with other local organizations, including local schools and businesses through intergovernmental agreements.
"I think it's a win-win," he said. "There seems to be a logical progression on continuing the good work that is being done in the city right now."
Dan Del Monaco, manager of Mohave State Bank, traded barbs with Lingenfelter over budget concerns and the participation of the Kingman Airport Authority funding partial private ownership of the economic director.

"I think if this road gets going, we could talk with the airport," Del Monaco said. "I think the airport would step forward to fund some of this."
"I guess I'm curious as to why the KAA wants to contribute funds to this when they're two years behind on their own airport strategic plan," asked Lingenfelter about Del Monaco's affiliation with KAA (he's on their finance committee).
"That would be a conversation you would need to direct to (KAA Executive Director) Dave French," Del Monaco replied. "I'm not at liberty to discuss at this time."

Mayor Monica Gates was hoping to get more input from the community, especially the business leaders and stakeholders, before the vote was made.
"I am very supportive of an economic development director," she said. "But I feel we should go ahead and have this Arizona Town Hall to get the community input and feedback and then take a look as a community and determine the best fit."
"That's my stand. I certainly recognize the need to have this professional," Gates said. "I just don't want to put the cart before the horse."