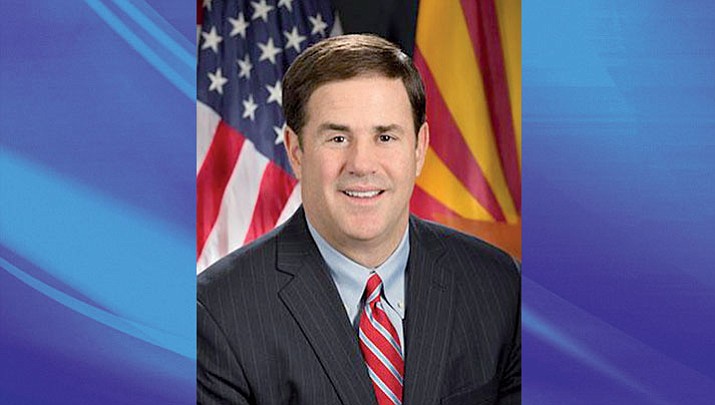 Originally Published: April 11, 2017 5:55 a.m.
PHOENIX – Gov. Doug Ducey is going to get the last word on whether Arizona tightens up the ability of police and prosecutors to seize property.
With only a single dissenting vote, the House on Monday gave final approval to HB 2477 which makes a series of changes in the statutes about how property can be taken and what options are available for those who want to fight the government. The Senate had previously voted unanimously for the measure.
But as Rep. Beck Nutt, R-Clifton, summarized in her opposition, this isn't a one-sided battle. She cited a litany of prosecutors and sheriffs who don't like everything crafted by Rep. Eddie Farnsworth, R-Gilbert.
More to the point, they are sending letters to the governor asking him to veto the measure despite the overwhelming support among lawmakers.
Ducey said last week he has not made up his mind, saying there are "people I respect on both sides who I think are making very significant points.''
But even if Ducey were to veto this version as unacceptable, that would not make the issue go away. He called civil forfeiture "an area of law in need of reform.''
The governor has through Saturday to make a decision.
Under current law prosecutors may seize property they contend is linked to a crime. That could be a vehicle used to transport drugs or items purchased by an alleged criminal syndicate with their illegally obtained gains.
Most states and the federal government have similar laws. And they do not require that the owner of the property actually be charged with a crime, much less convicted.
In Arizona, though, prosecutors need prove by only the "preponderance of the evidence'' that the property is linked to a crime, the lowest standard in law. HB 2477 would boost that to where a judge would have to see "clear and convincing evidence.''
Potentially more significant, the legislation would overturn existing law which say that a person who successfully contests a seizure must still bear his or her own legal fees.
These could exceed the value of the property, making a challenge a financial risk.
And it also would remove the ability of prosecutors to force property owners to pay the government's legal fees if the challenge is unsuccessful.
Sensing the broad support among lawmakers, opposition groups are now putting pressure on the governor.
During Monday's vote, Nutt read a letter to Ducey from Cochise County Sheriff Mark Dannels on behalf of the Arizona Sheriff's Association urging him to veto the measure.
Dannels makes no mention of either the higher standard of proof or the change in how legal fees are handled. Instead he tells the governor there are "a few critical issues'' that need to be resolved.
For example, he said the wording will result in federal agencies being less interested in cooperating with local law enforcement groups.
But he also is unhappy with a provision that not only gives county supervisors the authority to decide how assets seized under the the state's version of the Racketeer Influenced and Corrupt Organizations Act can be used and divided up among police and prosecutors but also allows the board to hire its own outside counsel to provide advice. Dannels said that is unnecessary "as our county attorneys are already well equipped to make a legal determination in the validity of our RICO expenditure requests.''
Farnsworth has brushed aside that argument, saying the current system amounts to the county prosecutors passing judgment on their own decisions.