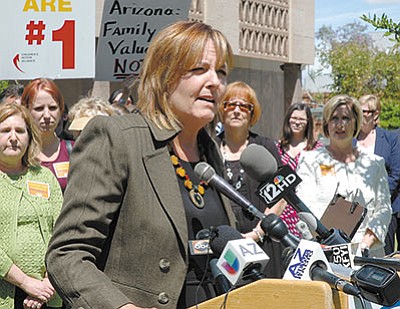 Originally Published: April 11, 2017 5:55 a.m.
What should be our top priority when it comes to educating our children in Arizona?
Is it increase funding to public education, increase teacher pay, decrease administrative costs or is it increase in graduation rates? All of these are very important to me but my No. 1 priority is improving education for all Arizona children.
Last Thursday, the Arizona legislators passed SB1431, which expands the empowerment scholarship (ESA) program. Although I have fought against this expansion in the past, this bill, as amended, has provisions that effectively improve the program overall.

The amendment puts a hard cap on the ESA program as well as measures for accountability, transparency, and increase scrutiny for fraud.
My objection to the empowerment scholarship awards has always been the increase cost to the state with little to no oversight.
SB1431 will save the state $1.5 million in 2018 and addresses my concerns while giving parents another choice for quality education. The savings can now be directed toward increased teacher pay for district and charter schools.
Without the amendment, the program would stand as is – no cap, no accountability and would continue without oversight. When I voted on Thursday, I did not vote for private schools or against public education. I voted for options for a better education.

Again, I ask you, what is your priority for educating our children?
I can tell you that I am keeping an open mind, and I am always looking for ways to create a higher standard of quality education in our great state.