Originally Published: April 13, 2017 5:59 a.m.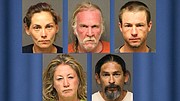 MOHAVE VALLEY – Numerous Mohave County and Arizona government and law enforcement agencies responded to adjacent properties to retrieve kids, animals, drugs and a stolen tractor Tuesday.
Mohave County Sheriff's Office SWAT team served search warrants at homes at 1571 and 1585 Laguna Road. The Mohave Area General Narcotics Enforcement Team, in partnership with the Arizona High Intensity Drug Trafficking Area initiative, along with members of the Arizona Department of Public Safety Vehicle Theft Taskforce received information of a stolen tractor located on the property.
During the raid, a 2016 John Deere tractor, reported stolen March 13 in the 1500 block of Pinion Road and valued at $57,000, was found buried in the backyard of one home. The Mohave County Road Division responded with equipment to unearth the tractor.

Arizona Department of Child Safety responded and removed four children from the 1585 Laguna Road home after deeming the property and structures uninhabitable.
Mohave County Planning and Zoning, Health Department and building inspectors assisted in the raid. Mohave Electric Cooperative turned power off to both properties after inspectors found numerous violations.

Mohave County Animal Control responded and took custody of several dogs and chickens.

The search also revealed methamphetamine, narcotic pills and a variety of drug paraphernalia.

Sheriff's deputies also responded to 4577 Camino Bruja in Fort Mohave and contacted Robert Vasquez for his alleged involvement with the stolen tractor. An investigation revealed Vasquez had used his backhoe to help bury the tractor. Vasquez reportedly admitted to selling some of the parts off the tractor.
The following people were arrested and transported to Mohave County jail:
John Leon Hutchison, 56, for chop shop owner and operator, theft of means of transportation, possession of dangerous drugs for sale, possession of dangerous drugs and possession of narcotic drugs, all felonies. He reportedly admitted involvement in selling methamphetamine.
Robert Nicholas Vasquez, 50, was arrested for trafficking stolen property and chop shop–own/operate, felonies.

Leslie Maureen Brown, 38, for possession of drug paraphernalia, a felony.
Amber Nicole Farmer, 35, for four counts of child vulnerable adult abuse-intent, felonies, and Kim Alan Petit Jr., 32, for two counts of child vulnerable adult abuse-intent.

Two others were arrested for misdemeanor drug possession charges.
More like this story