Originally Published: April 14, 2017 6 a.m.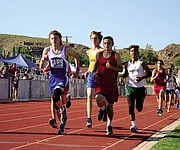 KINGMAN – Not all track and field athletes enjoy competing at home because of the pressure to win in front of their family and friends. That isn't the case for Lee Williams High School's Zach Moyd.
The senior Volunteer sees every race as the same and stays focused on competing at the highest level.
Moyd easily accomplished that Wednesday as he ran a 4:47.57 in the 1,600 meter run to take first place.
"The whole race I've taught myself to just keep a strong pace," Moyd said. "Slow down a little bit if you can, but try not to lose your momentum. Because if you stop without your momentum, you're (in trouble)."
Kingman Academy's Sam Skankey was close behind in second (4:59.38), followed by Kingman's Trey Weaver in fourth (5:10.91), Lee Williams' Cayden Robles in fifth (5:11.83) and fellow Vol Daryl Bland in seventh.
The Volunteers won the meet with 178 points, while the Bulldogs and Tigers tied for sixth with 23 points. On the girls' side, the Lady Vols also won the meet with 169 points, followed by the Lady Tigers in fourth with 38 points and the Lady Bulldogs in fifth with 37 points.
Lee Williams is not only succeeding as a team, but also on an individual level as a number of athletes are going to state.
"Lee Williams has seven athletes with automatic qualifying marks for state and two relays with automatic marks," Lee Williams track and field coach Joan Abraham said. "There are also nineteen more individuals and all four of the other relays with chances to go to state if they can hold their positions in the rankings or move up just a little bit more. It has been an exciting season and we aren't done yet."
Two other area track and field athletes are also looking for more after they came up short in their quest for first place in the high jump. Kingman's Elijah Howery and Lee Williams' Andrew Cardiff each cleared 5-feet-10-inches, but were unsuccessful on three attempts at 6-feet.
"When I get out here, I just have to calm down and really look at it," Howery said. "That's something I need to practice in every sport – just calming down and doing it."
Howery tying with Cardiff for second place was an accomplishment in itself though, as this is his first year competing in track and field. Cardiff was surprised to hear that fact and praised Howery for how far he is at this point in his career.
Even with that said, he was hoping to clear 6-feet and take first place.
"At home meets, you want to win it," Cardiff said. "You want to get it, but sometimes you just can't. I really wanted it, but I just didn't work on my form as well as I could have."
In the long jump, Kingman's Courtney Mossor experienced similar feelings as she didn't perform up to expectations. Mossor finished in fourth in the event at 12-feet-4-inches, but said she's adjusting to the long jump after not practicing it in a while.
Luckily for Mossor, she'll get an opportunity to redeem herself Saturday during the Route 66 Invitational at Kingman High School.
"I like having back-to-back (meets) because it keeps you focused," Mossor said. "It keeps you motivated to do better. I obviously usually do better, so this Saturday my goal is to do better than (Wednesday)."
For a pair of Kingman Academy discus throwers, making progress is an everyday goal. Seniors Jordan McDowell-Seybert and Dallyn Chapman know it's not easy in the first year of the track and field program, but they're determined to show their abilities.
"We have very few athletes compared to what the other schools have, but we compete very well against them," McDowell-Seybert said.
Chapman, meanwhile, wanted to do sprints, but he decided on discus after a torn ACL. He's having no problem adjusting, especially after he improved his personal best.
"My PR definitely went up today," Chapman said. "This is the first time using the spin and I got 111 (feet)."