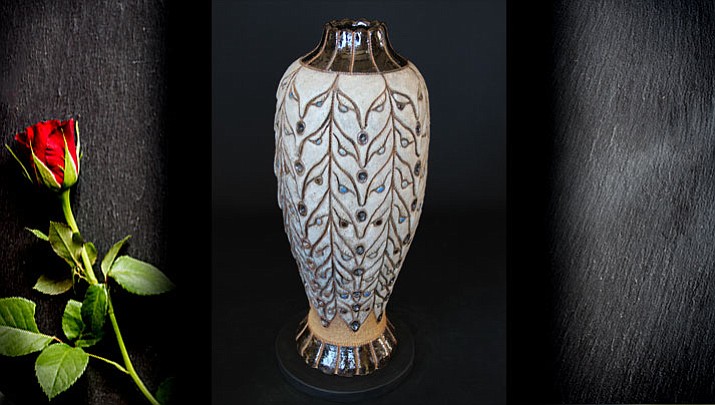 Originally Published: April 16, 2017 5:58 a.m.
Sara "Sally" Hare Leibold passed away in Kingman on April 7, 2017. She was born in New York City in 1937 to Michael and Jane (Jopling) Hare. She attended the Art Students League in New York City and also Sarah Lawrence College in Bronxville, New York, studying drawing, painting, and art history.
In 1958, Sally moved to Arizona, attended Arizona State University and became interested in ceramics. She received a B.A. from ASU and completed a Masters in art history. She worked in various aspects of ceramics for over 30 years, including teaching high school and college, and also worked in commercial pottery.
For eight years Sally lived 40 miles northeast of Kingman, Arizona, in a beautiful but isolated area. Sally and her husband, Richard, built the house, studio, and gas kiln. Without public utilities and ordinary amenities, life was quite primitive but educational. During these years most of the techniques and materials she used in her work were developed.
Sally and her late husband, Richard, lived in So-Hi Estates just north of Kingman for nearly 30 years. Her work was exhibited extensively in the Southwest. She received a "Women Making History Award" in Kingman. Sally was nominated for "Governor's Recognition Award in Art." She was the director of the "Festival of the Arts" for the Mohave Artists and Craftsmen's Guild for 20 years. Many of her art works are in private collections around the country.

Sally's work reflects an interest in and sensitivity to shapes in nature and the environment. Her ceramic art works are wheel thrown, constructed using the slab method, or a combination of both methods. The relief shapes and textures are either carved in or added on. Much of Sally's own philosophy is manifested in Southwest Indian culture.
Sally had a life-long commitment to personal athletics and physical fitness. She participated in biking, hiking, running, and swimming. She was also devoted to her numerous dog friends.
Sally was preceded in death by her husband, Richard, and is survived by her stepsons, Dirck Leibold (Sue) of Tucson Arizona, Aaron Leibold of Austin Texas, and one step-grandson.
No services are planned.
More like this story