Originally Published: April 17, 2017 6 a.m.
Meat, eggs or an unorthodox pet.
Chickens have a variety of uses, be it food or Feng Shui, and more people in Kingman are gaining interest in the birds ever since city council passed an ordinance last year allowing chicken ownership.
Kingman Municipal Code states that one bird is allowed per 1,000 square feet of lot size on residential lots within city limits with a limit of 36. Roosters are only permitted on residential lots of 40,000 square feet or greater.
Retiree Lynne Stiegler is the proud owner of 13 chickens living and playing in the backyard of her downtown Silver Street home. She and her mother, Karla, were sitting on the porch drinking coffee and getting their morning "chicken Zen," watching the birds run around in a 24 feet by 24 feet pen. They also have 6 feet by 8 feet and 4 feet by 10 feet coops to roost in. Stiegler got her first bird shortly after the ordinance was passed.
"I picked up a case of 'Chicken Math,'" Stiegler said. "It's where you keep acquiring chickens or you go mad."
There are four generations of family members living at the Stiegler home, more than enough to consume the 30-ish eggs produced by the chickens each week. The eggs are especially important for Stiegler's 3-year-old grandson.
"I want him to have the best food he can get," she said.
With the exception of egg production, Stiegler's chickens are pets. She doesn't use them for meat. Most of the birds are named after literary characters and have distinct personalities and languages of clucks, chirps and whistles. Katie, a Golden Comet, was resting in Stiegler's lap and being petted like a cat.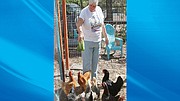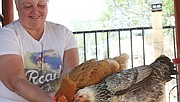 "She was my first chicken. She lays an egg a day," Stiegler said while the family dog, Josephine, a Corgi-Jack Russell Terrier, was running around with the chickens.
Stiegler said the chicken-owning community, known as the "Chicken Underground," exchanges advice, services, where to buy or trade eggs and meat, and of course, where to get more chickens. Mohave County Cluckers and Kingman Homesteading Co-op are just two of the groups that deal in the bird market.
The Kingman Tractor Supply Co. store hosted a backyard poultry event April 8. During the event, customers had the opportunity to engage in a number of activities all centered around learning how to care for and manage an at-home flock.
"The popularity of raising backyard poultry has continued to grow year after year, and it has a lot to do with the convenience of getting fresh eggs right from your own backyard," said Gary Wilson, manager of the Kingman Tractor Supply store. "Our goal is to ensure that anyone who's interested in raising a backyard flock has the resources and information needed to do so."

In addition to the main event, customers had the opportunity to enjoy basic poultry nutrition, pet adoptions and a cookout.
Tractor Supply has a surplus of all things chicken, including starter kits, feeders, bedding, heat bulbs and lamps, coops and more. For the poultry enthusiast, an expanded selection of poultry products is available on TractorSupply.com.
Kingman True Value manager Paul Shuffler raises chickens at a property north of town and knows many more who do, too.
"You can raise a meat chicken or egg layer," he said. "If you want meat, get a bigger chicken. If you want an egg layer, you want smaller chicken."
Shuffler said the food quality of home-grown birds surpasses that of the local grocer.
"It's kind of a no-brainer," he said "Anyone that has raised chicken can tell you the eggs are better than the store bought eggs."
Chickens are low maintenance for Stiegler. She spends about $100 on feed and scraps and another $50 on the fresh vegetables she feeds the birds, depending on how many squirrels and sparrows sneak into the run.

"All of my friends give me egg cartons so I don't have to buy them," she said.
The birds eat a non-soy and no-corn organic feed mix. She also feeds them a variety of greens and leftover kitchen scraps from watermelon rinds to rib bones. The chicken run's dirt floor is layered with straw, and waste dries up and composts itself into the dirt. Stiegler changes the straw out every few months.
The chicken's independent nature is similar to that of cats.
"I've built places (in the coop) to entertain them, and they keep themselves entertained," she said.
Her porch is a relaxing zone of chicken viewing. It's the family's stress relief center.
"When I'm angry or upset, I just come out and watch the chickens," she said.