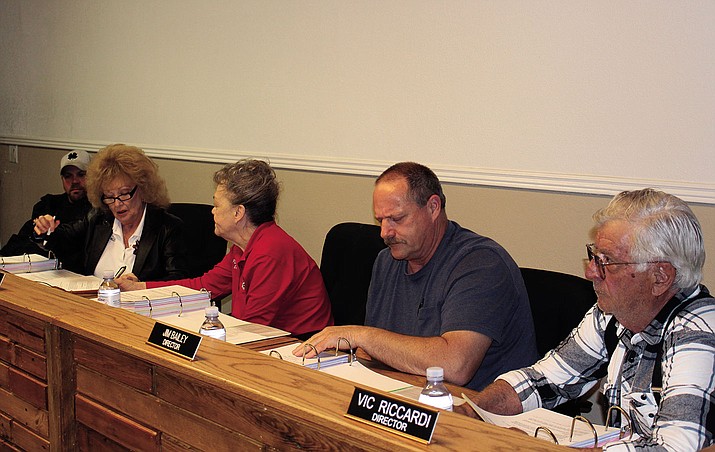 Photo by Hubble Ray Smith.
Originally Published: April 18, 2017 5:55 a.m.
KINGMAN – County Attorney Ryan Esplin will check into whether a board member of Northern Arizona Consolidated Fire District has the required training to serve on the board and possibly pursue legal action if the board member is found to be in noncompliance.
Mohave County's Board of Supervisors voted 3-2 Monday, with Supervisors Steve Moss and Buster Johnson opposed, to follow through on a citizen's complaint against Vic Riccardi, who was elected to the fire district board in 2014.
Supervisor Jean Bishop attached a second part to her motion that the County Attorney look into the compliance of governing board members of all 13 fire districts in the county, but was told the motion would have to be presented in a separate agenda.
Supervisor Moss made a similar motion that lost 2-3 to have staff investigate Riccardi's documentation, along with everyone on the training list provided by the Arizona Fire District Association.
Riccardi said he's been to "99 percent" of the compliance meetings, and said he has the proper documentation of having attended the training sessions.
Supervisor Bishop questioned why he hasn't produced it. Riccardi had plenty of opportunity to complete the training and could have submitted documentation to the board, she said.
Riccardi noted that he's 81 years old and was also an associate faculty member of Mohave Community College's firefighting class. He didn't know if he'd kept up on that certification either.
Riccardi used much of his three-minute comment allowance to discuss the fire district's March 23 board meeting, when interim Fire Chief Wayne Eder was hired by a contentious 3-2 vote.
The audience was 90 percent union members who were unhappy with the hiring and disruptive at the meeting, Riccardi said. At one point, he threatened to close the meeting.
"I should have said executive session," Riccardi said. "Now what I have is repercussion of what I said and did."
Christopher Simpson, representative for United Professional Firefighters of Kingman, said Riccardi may have signed up and paid for the training classes, but the Arizona Fire District Association has no records of his attendance.
Supervisor Johnson said he noticed a lot of names of fire district governing board missing from the list.
"Shouldn't we look at them all?" Johnson asked.
Simpson said he couldn't address the other districts, only those that he represents in Kingman and Golden Valley.
Interim Fire Chief Eder said he has "conflicting information" about Riccardi's training. The list from Arizona Fire District Association was as of December 2016 and did not include January's meeting, he said.
Northern Arizona Consolidated Fire District is dealing with compliance issues brought forth by its insurance company with personnel found out of compliance in a number of places, Eder added.
He assured county supervisors that he was going to work on bringing the fire district within full professional training compliance, as required by state law.