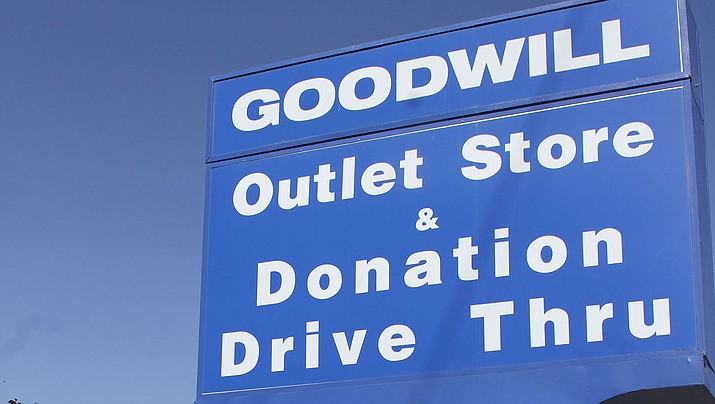 Photo by JC Amberlyn.
Originally Published: April 18, 2017 5:55 a.m.
KINGMAN – Goodwill Industries of Northern Arizona has merged with Goodwill of Central Arizona, and will be closing stores before reopening them as combined operations.
The Kingman store at 2369 Airway Ave., which opened in August 2014, is not one of them.
Sedona was the first store scheduled to be closed last week, followed by Flagstaff (April 23-27), Bullhead City (May 7-11) and Lake Havasu City (May 21-25).
The merger was approved by the Northern and Central Arizona Goodwill board of directors on March 31, with the new organization to be called Goodwill of Central and Northern Arizona.
"We have come together to best serve the Central and Northern Arizona communities," said Tim O'Neal, president and chief executive officer of the merged Goodwill. "It will allow us to expand our work in Northern Arizona."
O'Neal said Goodwill plans to add more stores, more employees and reopen closed career centers. It will also be offering home pickup service in Northern Arizona in the coming months.
With each reopening, Goodwill will introduce new sales throughout the week, including Senior Day on Tuesday, military and student discounts on Sunday, Dollar Thursdays and 50 percent off every other Saturday.
"Our top priority is to provide the people of Arizona with the resources and support they need to secure sustainable employment and provide a better quality of life for them and their families," O'Neal added in a company statement.
"We are confident that the merger will be an opportunity for us to significantly strengthen resources and deliver a higher level of service to more people in need."
As vice president of Goodwill Northern Arizona in 2014, Andy Marano oversaw the remodel and renovation of the 5,000-square-foot building on Airway Avenue that was formerly Atwoods Appliances.
Goodwill invested $100,000 to $150,000 painting the building, putting in new lights and fixtures and adding a second bathroom to bring it up to code for higher occupancy.
Goodwill stores are operated autonomously, independent of each other, Marano told the Daily Miner when the Kingman store opened.
"This is the stuff our donors and shoppers are concerned with," he said. "All of the profits and goods stay here."
Founded in 1947, Goodwill of Central and Northern Arizona is one of the oldest nonprofit agencies in Arizona.
Shopping at Goodwill and donating gently-used clothing appliances, furniture and other household items help fund employment programs that have placed more than 44,000 Arizonans in local jobs. It also diverts millions of pounds of material from going to Arizona landfills.