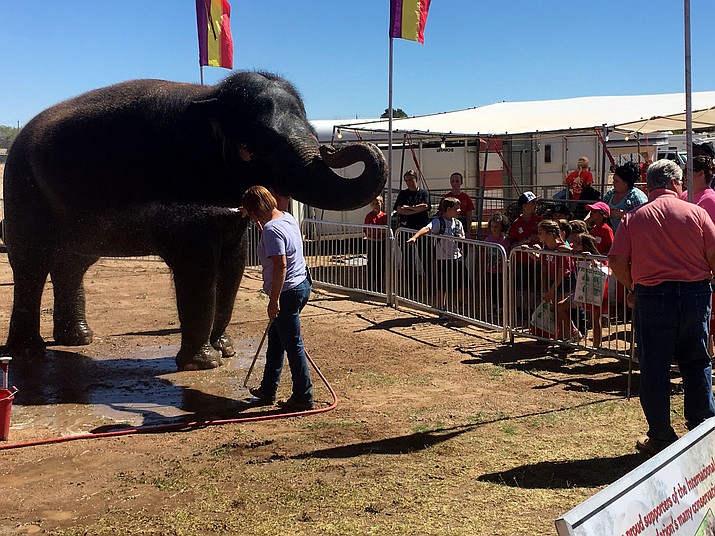 Photo by Hubble Ray Smith.
Originally Published: April 19, 2017 5:59 a.m.
CLARIFICATION: The story should have stated that Mohave County Board of Supervisors voted to direct the County Attorney to look into an ordinance banning the use of traveling commercial exotic and wild animals.
KINGMAN – If you didn't ride the elephants at last year's Mohave County Fair, or didn't see the big cats perform at Ringling Bros. Circus, you may not get that chance again in Mohave County.
The Board of Supervisors voted 3-2 Monday to ban the use of wild and exotic animals for traveling commercial display or performances in Mohave County.
Supervisor Steve Moss said he was initially opposed to the ban when a group of citizens brought it to him, but changed his mind after reviewing material that included secretly recorded video of animal abuse.
Moss asked the County Attorney to look into ordinances that would protect activities such as rodeos and animal sanctuaries, while at the same time prohibiting traveling commercial animals such as those used in circuses and carnivals.
Jonathan Kraft, owner of Keepers of the Wild animal sanctuary in Valentine, showed a three-minute video of elephants being beaten with metal bars, whips and hooked sticks. Lions and tigers were kept in 6-foot-by-8-foot cages on trucks for 12 hours at a time.
"All that suffering for a few minutes of entertainment is appalling," Kraft told the board. "The writing is on the wall. Ringling Bros. shut down their circus."
Keepers of the Wild receives a lot of the unwanted circus animals, Kraft said, and plans to expand with a 2,200-acre sanctuary in Golden Valley that was approved by the county in 2015.
"I think Mohave County can set an example to stop this horrific suffering of these animals. A lot of Third World countries have passed this ban. If they can do it, I think the United States can do it," Kraft said.
Supervisor Buster Johnson, who voted against the motion, said he didn't know if the county has the authority to ban circuses and must follow state law.
He asked Deputy County Attorney Ryan Esplin if he knew about the state law, and Esplin said he didn't know "off the top of my head" if the county has the authority to pass this particular animal ordinance.
Supervisor Hildy Angius, also opposing the motion, said there are existing rules against animal cruelty on the record. She believes it's connected to "geo-political" issues with which she does not agree.
In other action from Monday's meeting:
• The board tabled for six months a citizen request to change the official Mohave County seal to show the desert bighorn sheep instead of the elk. Hunting and fishing enthusiast Don Martin said elk are not indigenous to the area, and that Mohave County is home to the largest population of bighorn sheep in the world. People who come to Mohave County are far more likely to spot a bighorn sheep along the cliffs of the Colorado River and Lake Mead than an elk, he said. Supervisor Angius said the seal was modified in 2013, and there is a cost associated with changing all of the county logos. She didn't think it was a priority.
• The board voted 5-0 to authorize staff to take all actions necessary to clear title on land identified as "Main Street" or "Old Trails Road" in Hackberry to be acquired for a public highway. The county is authorized by state law to acquire property rights through eminent domain for the purpose of creating or altering a highway.
• The board tabled a motion to review available funding to address economic issues. Supervisor Gary Watson said he wanted to identify the board's priorities and sources of funding. He asked supervisors to bring their ideas to the next meeting to start the dialogue and address revenue sources.
• At the applicant's request, the board tabled for one month a petition to establish a 2.5-mile section of Peppermill Palms Boulevard in the Scenic area as a county highway. The Transportation Commission unanimously recommended denying the petition.