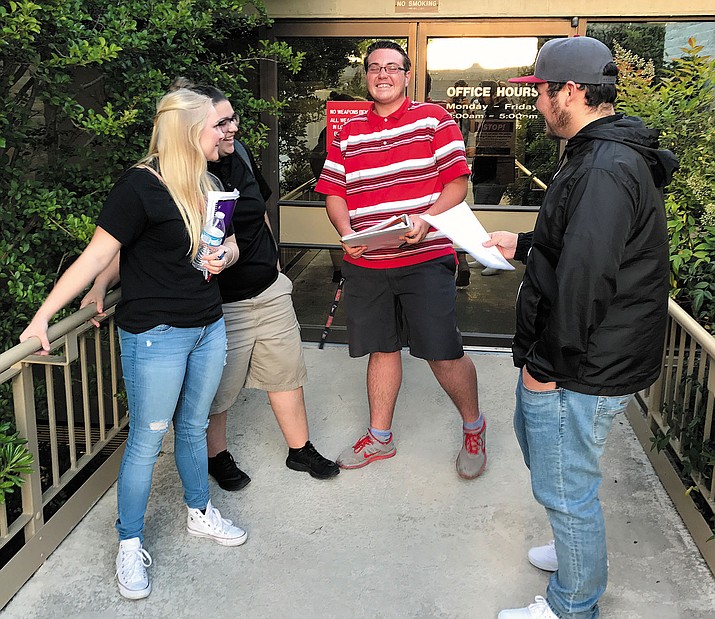 Photo by Aaron Ricca.

Originally Published: April 20, 2017 5:58 a.m.
KINGMAN – There's still a bit of sword fighting over how to stimulate Kingman's stuttering economy.
City Council did not approve hiring professional economic development consultant contract services and associated expenses related to the completion of a city comprehensive economic development strategic plan framework.
Between approvals to hire a city economic development director and go forward with an Arizona Town Hall meeting, the possibility of spending up to $75,000 on another economic study didn't sit well with some city council members and meeting attendees.
"That amount represents the high-end of the cost range associated with the plans I researched," said Councilman Travis Lingenfelter, who spearheaded the agenda item. He said most economic plans are completed for less than $40,000, and costing a community investment of up to $8,000 a year for a five year plan.
His projected strategic plan would cover economic needs for the next 20 years and focus on specific action items needed to take place to advance longer goals.
Kingman resident Doug Dickmeyer said spending money for another economic development study is "putting the cart ahead of the horse."
"This would be a terrible waste of $75,000 and is not needed at this time," he said. "I believe we should go through an Arizona Town Hall process first to determine what is best for the community."
Councilwoman Jen Miles asked about a cap lower than $75,000.
"In hindsight, I wish I never put that number out," Lingenfelter replied. "In all of the studies I reviewed, I wanted to have a range,"
Miles also asked about timing.
The city will hire an economic development director and proceed with the Arizona Town Hall meeting, creating different planning bubbles in the economic continuum.
"Could these thing be aligned so that collaboration could truly take place?" she asked.
Miles tossed the issue to City Manager John Dougherty, who said communicating with the strategic planning firm and Arizona Town Hall is necessary to get both entities in town on the same day. He hopes an economic development director could start in July.
Kingman Chamber of Commerce Board Chair Lynne Petersen is gunning for an August date on the Arizona Town Hall. She wants to ensure there's enough interest and time for marketing before going forward.
"Without compromising quality, do you think that could be moved up?" asked Councilwoman Vicki Kress.
Petersen said it's all about community interest and participation.

"I believe it could be done much faster," she said.
The strategic plan's price tag crept up again.

"I'm not comfortable authorizing another $75,000 study at this time," said Mayor Monica Gates. "It seems to me, we can get some direction from the community, the council and ultimately the economic development director before we commit to this kind of comprehensive plan."
Kress was nervous about two economic entities stepping on each other's toes.
"I view the outcome of the Arizona Town Hall meeting as the job description of the economic development director," she said.
Councilwoman Jamie Scott Stehly believes the strategic plan, Arizona Town Hall and an economic development director can come together, but was apprehensive about spending more money on stale studies.

"We committed to hiring an economic development director and I believe (they) will be the employee we hold accountable for that study," she said.
Council instead voted 5-2 in favor of a motion to pursue a request for proposal with no cap to look at fair-market bids which the council can reject those they see unfit.
Council passed unanimously personal and financial participation in an Arizona Town Hall meeting.

"Specifically on the Arizona Town Hall; the chamber, membership and board continues to feel strongly that this is a significantly important part of (economic development," said Kingman Chamber of Commerce CEO Gregg Martin. "We believe it needs to be the first part of an integrated, comprehensive economic development plan."
The total community participation is $15,000, including private donations. City participation will cost $7,500.
In other council news:
-The Traffic Safety Committee will meet at 1:15 p.m. today at the City of Kingman Public Works Department to discuss the possibility of adding bike lanes to El Trovatore Hill. This meeting is not open to the public.
-Main Street Arizona will host a Town Hall meeting at 5:30 p.m., April 26 at Central Kingman, 112 N. Fourth St. to discuss downtown revitalization efforts.