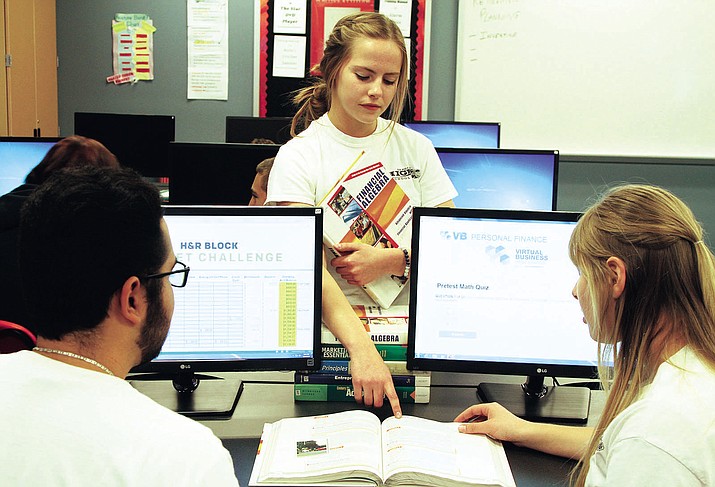 Photo by JC Amberlyn.
Originally Published: April 20, 2017 6 a.m.
It may be more than coincidence that April is designated as National Financial Literacy Month as well as the month to file your income taxes.
There's good reason many Americans are having trouble keeping their heads above financial water, a daily struggle that causes headaches, arguments and undue pressure in a lot of people's lives.
They're uneducated. They can read and write, add and subtract, but cannot manage their personal finances.
Americans today are carrying $2.4 trillion in consumer debt, according to the U.S. Federal Reserve, and nearly one-third of them are strapped for extra cash, making it almost impossible to escape the paycheck-to-paycheck survival trap.
About half of Americans have less than one month of emergency savings, and 28 percent have less than two weeks' expenses saved.
National Financial Literacy Month, sponsored by financial management firms, credit counselors and consumer advocacy groups, is aimed at educating people on how to create a strategy to improve their financial situation.
It's a long and complicated path to financial stability, and it starts with baby steps. You want to have a clear picture of where you are and where you want to be, and one that's reasonable and achievable.
"If you're 85 and about to die, you're going to have a different financial plan than a 19-year-old just starting out," said Mark Ruthenberg, owner of Mark J. Ruthenberg Pension Planning in Kingman.
Basic financial literacy is being able to balance a checkbook, establish a monthly budget and understand retirement plans, he said.
Start young
The monthly designation grew out of Youth Financial Literacy Day that was introduced by the National Endowment for Financial Education more than a decade ago.
In 2004, the U.S. Senate passed a resolution that recognizes April as National Financial Literacy Month, and both houses of Congress have passed similar resolutions each year.
The idea is to highlight the importance of financial literacy and teach consumers of all ages how to manage their money wisely.
"It is never too early to begin developing financial literacy, taking control of your finances and putting yourself on the path to financial security," said Monica Busch of Busch Investments. "Being financially literate allows one to earn more, spend less and get the things he or she really wants."
Rodney Cody, business teacher at Lee Williams High School, drives home important money principles for students in his personal finance classes, many of whom are seniors ready to enter the workforce.
Americans have a huge problem with debt and money management, as evidenced by the rise in personal bankruptcies, he noted.
"Students need to learn ahead of time not to get into that position as they get started in their new world," Cody said Wednesday during a break between classes. "A lot of them are going to be kicked out of the house and need to know this stuff."
Personal finance counts as a math class at Lee Williams with word problems directed at financial literacy, like how much tax you'll pay on a paycheck with and without overtime. Students also look at housing costs, automobile payments and investment strategies.
"I throw in a lot of other lessons on the side," Cody said. "I teach them about the cost of living index. They want to move out of Kingman, but they don't think about the cost of living somewhere else."
Last year, his class excelled in the H&R Block "budget challenge," setting up monthly payments of bills and setting aside emergency funds, and earned a $100 gift card that was spent on a breakfast party.
Late learners
Cody said he hates to pick on millennials, but in his 19 years of teaching, he has seen a decline in financial literacy with kids thinking they "deserve" more than they earn.
Financial planner Ruthenberg said he's seen women clients who went through a divorce, have three kids and one of them is a "ne'er do well" who continues to drain her bank account.
"When you're 18, don't let the door hit you in the ass," he said parents should be telling their kids.
Cody said he tries to cut the kids a little slack. There are some "wonderful kids" in his class who plan to move out of their parents' home upon graduation.
"I'm a great believer in late bloomers," he said. "They'll have some bumps along the way and figure it out."
People usually get smarter about finances as they get older, realizing they should have saved more or spent more wisely, Ruthenberg said.
"If I'd only known this or that," he said. "If I'd only known 401K (retirement plan) was not a rip-off. If I'd only known Microsoft would go up 20 times in price. If I'd only known real estate is not a guaranteed investment."
4 tips that will get credit card debt under control
Many people get buried in credit card debt. Paying with plastic isn't a bad thing; it's difficult to get by without credit cards for certain purchases, especially online, and it helps to build your credit rating.
But you have to be discerning in what you buy on credit, and you can't become dependent on your credit cards. A few mistakes will add up fast, like buying things you can't really afford.
Here are some tips to get your credit card debt under control:
• Tighten up your budget. Create a real budget that covers every expense, no matter how small. Filling up at the gas station or adding a few extra items at the grocery store goes unnoticed in the checkbook, but it all adds up.
• Cut back on things you don't need. Know the difference between wants and needs. You don't need to eat out, and you probably don't need that new electronic gadget or latest fashion.
• Pay down debt. Commit to paying down a portion of your debt in a certain time frame, and make sure your family is on board with your goal. It's difficult to keep a balanced budget with a ton of debt piling in.
• Shelve your credit cards. Leave them at home, and only carry one when you need to make a big purchase. Buying with credit is tempting, so carry cash or a debit card for daily purchases.