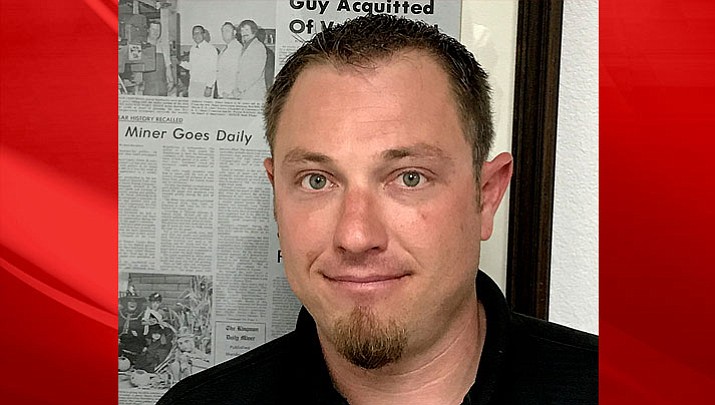 Photo by Aaron Ricca.

Originally Published: April 20, 2017 5:59 a.m.
KINGMAN – Anthony and Frank Puglia want to clear the air.
Anthony was arrested by Kingman Police April 12 for an alleged felony assault on a Kingman firefighter after paramedics responded to a possible drug overdose of a 34-year-old man at a home in the 2700 block of Colorado Avenue.
The original report from KPD listed 33-year-old Puglia as a roommate of the deceased, spurring a frantic reaction from family, friends and business partners after the Daily Miner published the story. KPD corrected the statement Monday, saying Puglia "was an acquaintance who arrived at the home and found the male subject lying on the floor, already deceased."
"The (original) information implied he was involved with some kind of death," said Anthony's father Frank. "It didn't go into enough detail and left things floating around in people's minds.
"That's damaging and we want to set the record straight," he said.

What Happened?
Names of the deceased and the Colorado Avenue homeowner, along with the cause of death, have not been released. Anthony said their relationships were by school acquaintance only, and that he was at his home with his children when he got a call from the homeowner saying the victim had been passed out for some time.
Anthony raced over to find the electricity out, the home smelling like garbage and the man dead.

Anthony said he initially called for help.
"I was at that house maybe two minutes tops before I called 911," he said. "I walked in and knew he was already dead. I felt his neck for a pulse and there was none. His neck was really cold."
According to Puglia, he followed dispatcher instructions to attempt CPR. Kingman Fire Department paramedics responded, performed a minor examination and stopped treating the victim after determining he was dead. That's when Puglia began to panic.

According to the KPD press release, Puglia became aggressive and demanded paramedics begin treatment on the dead man, and at one point allegedly pushed a firefighter and began breaking items in the home.
Anthony said he was in shock from being in the dark, filthy house near a dead body. When police and medics arrived, he didn't say anything to anyone, much less attack anyone.

"The firefighters didn't ask me any questions," he said. "I was trying to help (the victim) and bring him back to life."
Puglia admitted he punched a small picture frame out of frustration and that regardless of panic mode, he would've remembered hitting someone. The last thing he does remember is being blindsided by a KPD officer, thrown to the floor, handcuffed and taken to a patrol car.
"There were no utilities in the house, so it was dark," Puglia said, guessing officers entering the home were on high alert. "I really can't blame them."
According to Anthony, the homeowner and the victim often hung out at the house, and the owner said the victim had been drinking at the house.
"I got the call and (the homeowner) said (the victim) had been passed out all day," Puglia said. "I wasn't there. I don't know what he took or drank."
Both men felt there was a gap in information between the actual police report and the press release. Frank was skeptical of his son hitting a firefighter and that detectives talked to him after the incident.
"Everything was hearsay after the scene," Frank said.
The Puglia family runs a local business with prominent accounts and is worried this incident could taint their reputation.
"This could be disastrous," Frank said. "I needed to make sure we came in here and (told our side).
"People who know Anthony backed him up on social media," the father continued. "He was immediately getting support."
Neither of the men knew how they would have reacted in the situation and don't blame the police for taking control of a potentially hazardous situation.
"But get the facts straight first," Anthony said.
The felony aggravated assault charge is especially troubling to the men. Anthony has a good job and a family and he wants to clear his name.
"His only involvement in this was going over to help somebody," the father said. "Hold your head up because everybody knows who you really are."