Photo by JC Amberlyn.
Originally Published: April 24, 2017 5:55 a.m.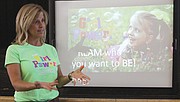 Soroptimist International of Kingman held its annual Kamp Girl Power recently at White Cliffs Middle School. Kamp Girl Power is a day "of fun activities to educate and inspire girls in grades 3 through 7." Soroptimist International has been putting on the camp for over 25 years. The theme this year was "Dream It, Be It." They want to encourage girls to live up to their potential and taught the importance of new behaviors, overcoming obstacles and problem solving. Aleta Norris, right, co-founder of Living as a Leader, was Guest Speaker. For more information, visit www.sikingman.com. Shown above from left to right, Modesty Espinosa, 9, talks to Kendal Fancon, 10, and Ryianna Cox, 10, as they work on Vision Boards, which show what they want to be when they grow up.