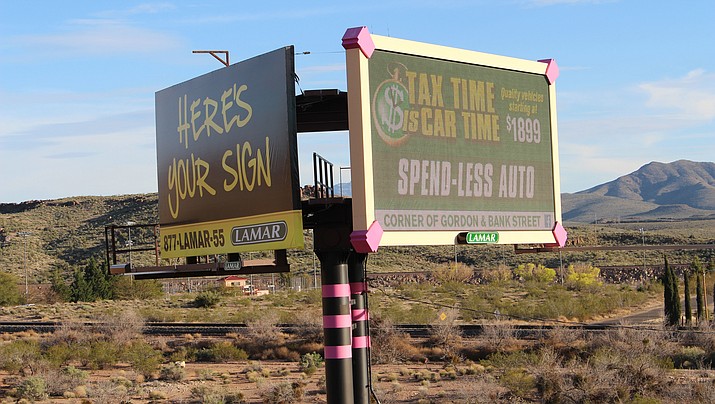 Photo by Hubble Ray Smith.

Originally Published: April 25, 2017 5:55 a.m.
PHOENIX – The state House voted Thursday to open areas of Mohave County to electronic billboards.
But not in and around Lake Havasu City. And nowhere near the Hoover Dam.
The version of SB 1114 which had cleared the Senate earlier this year would have opened up the entire area within 60 miles of Laughlin to these internally illuminated signs. And that area was far less than Sen. Sonny Borrelli, R-Lake Havasu City, had tried to get approved last year.
But even that proved too much for foes, including the astronomy community, concerned about the light pollution that would result.
Potentially more significant, Rep. Regina Cobb, R-Kingman, acknowledged that officials from Lake Havasu City made it clear they were not interested in having such billboards in and around their community.
So to get the votes, the legislation now extends the area where electronic billboards will be allowed out just 40 miles from Bullhead City. And it specifically prohibits the signs south of Interstate 40 -- where Lake Havasu City is located -- as well as any closer than about 40 miles to Hoover Dam.
The measure also contains illumination limits after sunset. Only 35 signs would be allowed within the area. And the signs have to be turned off each night at 11 p.m.
SB 1114 would be the first major departure from a deal negotiated in 2012 between the billboard industry and the astronomy community.
That legislation set up "dark zones'' designed to protect the skies around existing telescopes in Flagstaff as well as in southern and southeast Arizona.
In essence, under current law the only areas of the state where such signs are allowed stretches from the eastern suburbs of Phoenix straight west to the Colorado River. Anything north, south or east of that is off limits.
And even in those areas, there are limits on how bright the signs can be and their hours of operation.
But lobbyists from Lamar Advertising argued they were not part of that 2012 deal. And they specifically pushed to allow the signs in northwest Arizona, getting Borrelli to sponsor the legislation.
Christina Butler, vice president and general manager for Lamar in Bullhead City, said she's "super excited" over the 35-18 House vote.
"We did agree to amend the bill to exclude Havasu and the Dolan Springs and White Hills area closest to the Hoover Dam," Butler said in an email to the Daily Miner. "We'll need to go back to Senate to finalize, but we're delighted to be out of the House in favor."
Cobb said this isn't just about creating cash-generating opportunities for Lamar and other billboard companies.
She said officials in Bullhead City actually want the lighted signs.
"They needed the lighted billboards to compete with some of the businesses they have across the river,'' Cobb said, referring to Laughlin, on the other side of the Colorado River.
Still, she conceded, not everyone is of the same mind.
"There's other communities up in that area that did no want the lighted billboards,'' Cobb explained to House colleagues. "So we condensed down the area.''
That gives Bullhead City and Kingman the signs they want, she said.
"It doesn't include up to Lake Mead,'' Cobb said. "And Lake Havasu wanted to be excluded.
Even that, however, was not enough to blunt all opposition.
Rep. Richard Andrade, D-Glendale, said he fears that any further incursion of electronic billboards will mean fewer areas of the state suitable for astronomy.
"The space and astronomy industry employs more than 3,300 individuals and has an economic impact of $252.8 million,'' he said, generating $12 million in tax revenues.
Andrade said it's important to protect the dark skies in Arizona because the only other state with more telescopes is Hawaii.
And he said they're out of space for expansion there.
"So this is something we need to protect,'' Andrade said. And he said it is wrong for lawmakers to tinker with the 2012 deal.
"How many more compromises before we compromise this out?''
But Rep. Mark Finchem, R-Oro Valley, said the final version of the legislation make it a good compromise.
A final roll-call vote is needed before the measure goes back to the Senate to review the House amendments.
– Daily Miner's Hubble Ray Smith contributed to this report.