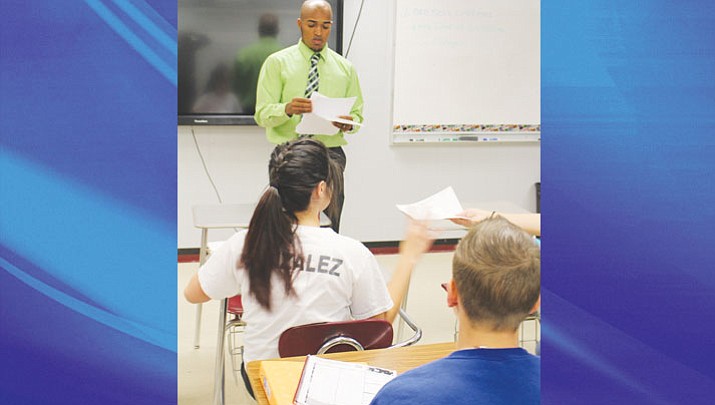 Photo by Hubble Ray Smith.
Originally Published: April 25, 2017 6 a.m.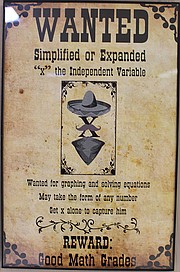 Kingman Middle School math teacher Joy Lightner took advantage of her students' interest in the NCAA basketball tournament to show how math plays a part in everyday life.
They picked a team, not to win the tournament bracket, but to study how much it costs to attend that university for four years, how many points and rebounds each of the players is averaging, what's the team's winning percentage and other numerical data.
The seventh- and eighth-graders were shocked to learn that it costs about $300,000 to get a four-year degree from Duke University, which was slightly higher than Stanford and much more than Michigan State.
"Oh my God! That's why we encourage you to get good grades for scholarships and grants," Lightner told her students.
The NCAA tournament is one example of classroom techniques that Kingman teachers are using to make mathematics a fun and meaningful subject and stimulate students' interest in studying
Science, Technology, Engineering and Math, or STEM.
"If you challenge them a little bit, they'll give you more than they might think," Lightner said. "Set the bar high, and they're always reaching for something."
Fun and games
The strategy for math teachers is to get students to enjoy mathematical processes, appreciate the complexities of the numbers and find ways to relate math to daily life.
Wallis Alexander brought out the 1960s strategic guessing game Battleship to reinforce the concept of coordinates for his Kingman Middle School honors math students.
They also play games involving measurements such as comparing the length of someone's arm or foot.
Advanced eighth-graders from Kingman Middle School are taking a field trip to Southern California, where they'll spend three hours a day studying the math and science behind the rides at Disneyland.
"They get a lot out of it," Alexander said. "The biggest problem kids have with math is they don't see how it relates to the real world. I do things that relate to life. When you're standing in line at Walmart, and you have this much, can I afford this? That's algebra."
One is one, but when you replace it with "x," people have difficulty understanding that abstract concept, Alexander said.
He takes math from abstract to concrete.
"We can talk about measurements all day, but if a kid hasn't applied it, if he hasn't measured and cut a piece of wood, it always stays abstract," the math teacher said.
Numerically challenged
It's almost considered to be a badge of honor to admit you're not good at math. You wouldn't brag about not being able to read or write.
Math is a difficult subject, to be sure, and it requires diligent studying and daily homework. Alexander said his honors math students aren't necessarily smarter than the others, they just work harder.
The question of why some students shy away from math and tend not to score well on standardized tests is one that educators have struggled to answer for decades, Lightner said.
"We sometimes make the simple complicated, instead of making the complicated simple," she said. "There's only six things you can do with a number – add, subtract, divide, multiply, raise it to a power and find the root. I think it comes from not having enough hands-on activities to allow them to makes sense of it to themselves."
Chelsea Emrey said she looks for crossover between math and science to make it as fun as possible for her sixth-graders. She's found that her students actually enjoy previewing what's coming up next year in seventh-grade math.
The kids are also looking forward to the culinary arts program starting next year at Kingman Middle School, which involves measuring ingredients, a great way to teach them about fractions, Emrey added.
Real-life math
Anytime a teacher can bring in hands-on activities with fractions or measurements, it is going to make math more fun, Lightner said.
Her students built three-dimensional model swimming pools starting with scale drawings and had to think about geometric shapes for designing the pool, calculate the volume of water needed to fill the pool, and figure out much it's going to cost to lathe and stucco the pool.
That kept them busy two days a week in class for about a month.
Another project was decorating a 625-square-foot room for under $25,000, which included going to Home Depot and pricing flooring options per square foot, calculating how many gallons of paint will be required if each gallon covers 400 square feet, and shopping online for furnishings and decorations.
The group that came within $100 of the $25,000 budget without going over won the contest.
"All of those things are real-life applications," Lightner said. "For every dollar, you've got to figure 10 cents for tax. That's a reality check for kids."