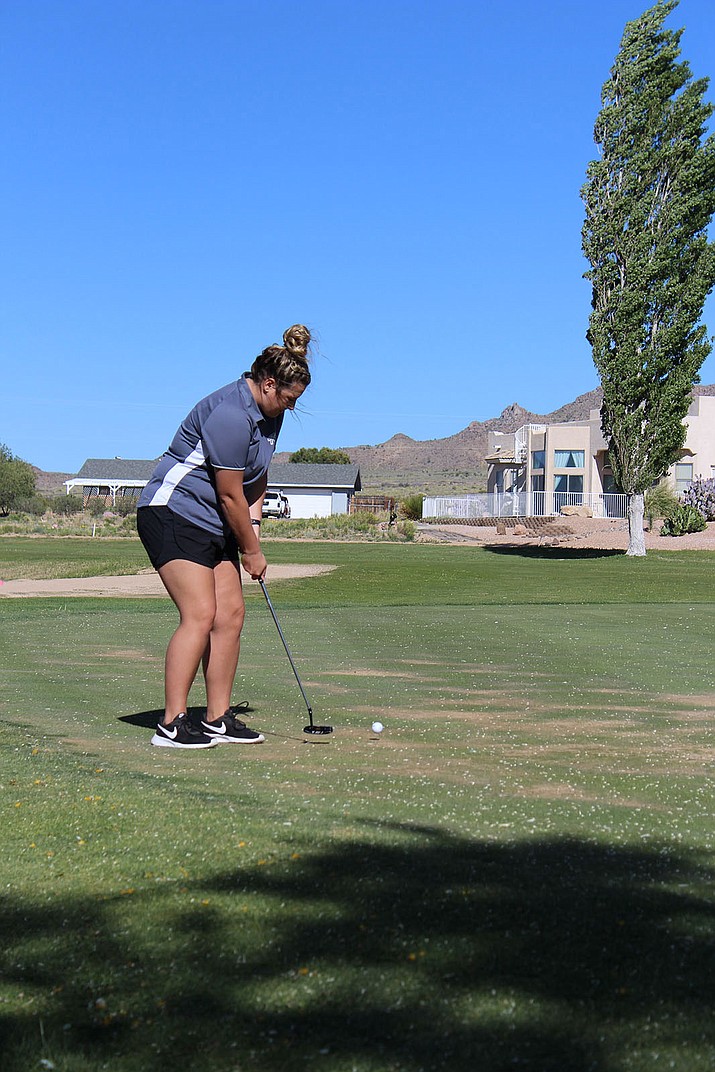 Photo by Beau Bearden.
Originally Published: April 27, 2017 6 a.m.
VALLE VISTA – The Kingman Academy golf team dealt with wind Tuesday at Valle Vista Golf Course, but overcame the conditions to shoot a 203 and win its match against Bagdad.
"The wind is troublesome here right now, with gusts up to 25 to 30 miles per hour," Kingman Academy golf coach BJ Maticic said. "That changes the way you play if you're not used to it. It makes it a little more difficult, but I think overall, they did pretty well."
While Bagdad didn't win the match, its golfer Riley Young took first with a 44, followed by Kingman Academy's April Sorace in second (49), Jacob Heppler in third (51), Jake Scott in fourth (51), Izzy Velez in fifth (52) and Lance Stutzman in sixth (55).
While Scott didn't play his best game due to the windy conditions, the freshman still embraced the challenge.
"The wind makes it a lot harder, but it makes it a lot more fun, too," Scott said. "Because it really affects how you play, you need to really account for that."
It also helped that Scott has played at Valle Vista a couple of times before, but he still had to make some adjustments.
"It's a lot different because I haven't played here for a while," Scott said. "I really just like playing different courses because I don't like doing the same course over and over again. It kind of gets boring."
Velez didn't have the same luxury as Scott, as she hadn't ever played at Valle Vista. That didn't stop her from using the opportunity to make improvements.
"I actually feel like I did really well," Velez said of her play Tuesday. "I'm trying to beat my best right now at a 50 and I got a 52. I kind of messed up on this last hole, but it's OK. I still felt like it was a really fun course."
Velez tallied a number of double pars last season and made strides to bogeys and double bogeys this season. She mentioned her ultimate goal is to get pars and then get birdies.
"I almost got a birdie today, which was pretty awesome," Velez said. "I got a par instead, but I'm not complaining."
Velez said she is satisfied with her improvements so far this season, but that doesn't mean she is finished getting better.
"I set small goals that can be achieved and then work from there," Velez said. "At the beginning of the season, I just wanted double bogeys. So the fact I'm getting par, I'm in a happy spot with my golf. But I still want to be really good."
Velez isn't the only Kingman Academy golfer that has made improvements this season as Maticic mentioned there's been overall improvement.
"Everybody on the team has made some pretty good strides," he said. "A lot of them have cut at least 10 percent off their strokes. So I'm really happy about that."
Last week, Kingman Academy traveled to Parker and shot a 218 to finish second, while Parker won the match with a 200.
Individually, Scott took first place with a 44, while Sorace finished sixth with a 52 and Velez and Andy Dugo each shot a 53 to tie for seventh.
Kingman Academy is back in action at 2 p.m. Monday with a match at River Valley.
"It's a fun course," Maticic said of Valle Vista. "It'll help them next week when we play in River Valley and Williams, kind of get them used to playing something different."
More like this story