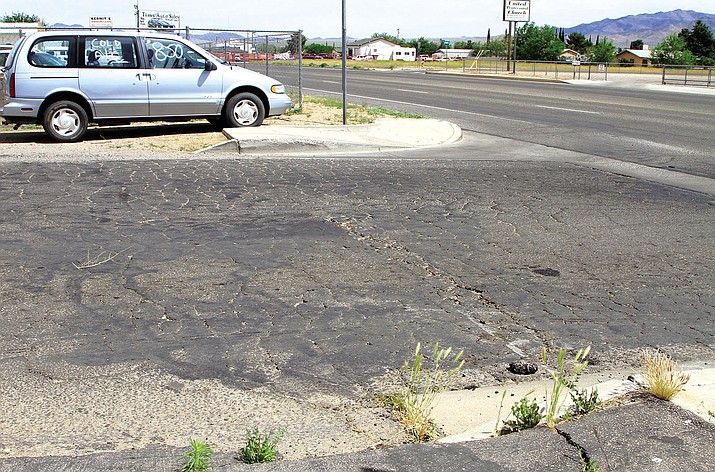 Photo by JC Amberlyn.
Originally Published: April 28, 2017 5:59 a.m.
KINGMAN – Mohave County is at the "end of the line" on its contingency fund as the state Legislature continues to sweep county funds to balance the budget, Supervisor Gary Watson said Thursday.
The state has swept more than $500 million from Arizona counties, taking the biggest chunk from the Highway User Revenue Funds, or HURF, that are designated for road construction and maintenance.
Mohave County has been hit particularly hard, with about half of the roads showing cracks and deterioration and due for replacement.
Services have been reduced, including the Mohave County Sheriff's Department, which is operating at 70 percent capacity. County staff has been cut to 900 from 1,200 over the past eight years.
Worse, there appears to be no end to funding cuts that Mohave County has endured since the Great Recession.
"As long as the state legislators act as they have, they're going to continue to make sweeps," Watson said. "We don't have any more to be pushed to. We're at the end of the line."
Watson said Mohave County has two of the best representatives in the state with Sonny Borrelli, R-Lake Havasu, and Regina Cobb, R-Kingman, and they do a "fantastic job."
But they're overwhelmed by the "no tax, no government" legislators of Maricopa County, which has the greatest influence in Arizona, he said.
Coral Loyd, finance director for Mohave County, said the county has been shorted nearly $16 million since 2009, including about $7.2 million in HURF sweeps. Other sweeps include $2.9 million in lost revenue streams, $1.4 million in program shifts, $3 million in state agency cost shifts and $1.4 million in mandated contributions.
Based on information from the County Supervisors Association, Loyd estimates $2.1 million in sweeps for Mohave County in the upcoming year, with about $600,000 from HURF.
That takes money away from the Public Works Department, which is responsible for maintaining more than 800 miles of paved county roads, plus another 1,300 miles of unsurfaced roads.
Mohave County could be preserving pavement and reconstructing roads on a regular basis, but the level of funding required for those operations simply isn't there, said Steve Latoski, director of Public Works.
"Transportation revenue shortfall, exacerbated by HURF sweeps, limits the county's abilities to fund capital road improvement projects toward road reconstruction and expansion," he said. "Yet the need exists."
At present, Latoski said 313 miles of paved regional highways and arterial roads are approaching end-of-service life.
Mohave County has been holding up better than some of the other counties in the state, with credit due to the county administrator and his staff, Supervisor Jean Bishop said.
The Board of Supervisors is fiscally responsible, and Mohave County has the fourth-lowest tax rate in the state, the supervisor noted.
"Does Mohave County have financial challenges? Of course we do, and it doesn't help when the state of Arizona continues to balance their budget on the backs of counties," Bishop said. "I'm hoping the state cost shifts and sweeps will be less this year, but my expectation is low."
Supervisors may not always agree on priorities, but they do agree on paying bills and staying within a budget without depending on a line of credit, she added.
It's great to have low taxes to bring people to Mohave County, but then they want improved infrastructure and services, Watson said.
"It's a two-edged sword. If we don't make revenue adjustments, we can't solve our problems," he said.
If citizens of Mohave County want better roads and more law enforcement, they should initiate a quarter-cent sales tax increase, Watson said. The county currently receives .25 percent of the state sales tax, or 2½ cents for every $10.