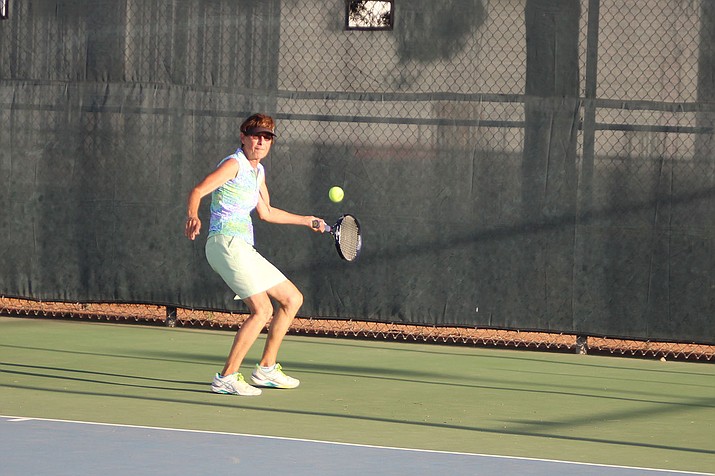 Photo by Beau Bearden.
Originally Published: April 30, 2017 6 a.m.
KINGMAN – When Brooke Fix first moved to Kingman, he only found four people playing tennis at Centennial Park. That isn't the case anymore, as each Monday, Wednesday and Saturday, a number of tennis players can be found playing on all of the courts.
Fix and his friend Steven Johnson share the responsibility of running the Kingman Tennis Club and the duo has watched it prosper.
"We get lots of people playing and none of them have to do any arranging," Fix said. "They just show up. … It's been working very well for a long time, over 10 years. We keep doing it and we keep meeting new people every year."
Johnson usually does the arranging on Monday's so Fix can play, while Fix takes care of it Wednesday so his friend can play tennis. There is a wide variety of players on the court, from young adults to older men and women.
The club makes sure that diversity is well mixed as doubles partners are grouped based on skill level to allow for more competitive matches. Players also don't have to worry about anything once they arrive at Centennial Park.
"No one has to commit to anything, they can just show up," Fix said. "All they have to do is bring their tennis shoes and their racket. We pay for the courts and the balls."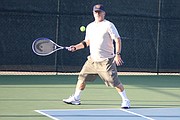 While the Kingman Tennis Club holds its open tennis every week, it holds a tournament just once a year. It was called the Mohave County Adult Tennis Tournament during the first two years, but this year it will be renamed the Don Thompson Memorial Tournament.
Thompson, a member of the club, passed away of a heart attack in June of 2015 about two or three weeks after the inaugural tournament.
He played tennis alongside a number of the current members and made his presence known.
"(Thompson) was a gentleman that loved to play tennis and he had a booming voice," Johnson said. "I called him 'The Voice of the People.' He really liked that because he had a sense of humor. He was just a great guy."
Thompson's two sisters, who donated $10,000 to the club, will be the guests of honor when the tournament is hosted at Kingman High School next weekend.
The tourney features four different age groups with singles, doubles and mixed doubles. Championship trophies are awarded in each division along with second- and third-place medals.
NOTE: For more information about the Kingman Tennis Club or to register for the Don Thompson Memorial Tournament May 6-7, contact Brooke Fix at 928-753-5684 or at rbfix7@gmail.com.