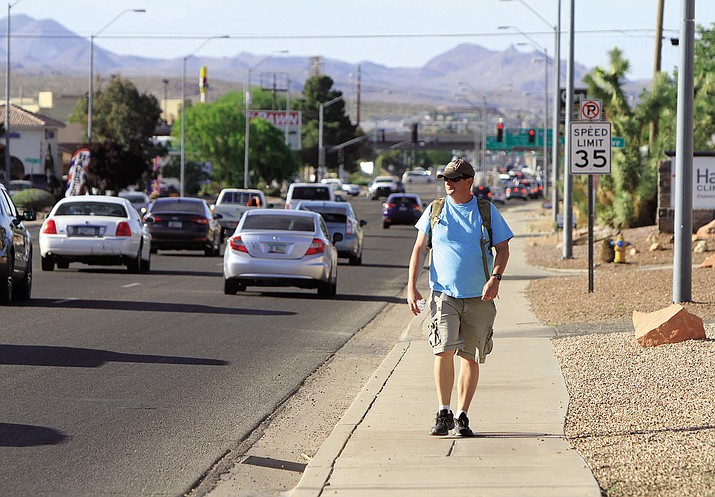 Photo by JC Amberlyn.

Originally Published: April 30, 2017 6 a.m.
Part necessity, part therapy.
Two Thursdays ago, the transmission in my 2007 Ford Focus decided 160,000 some-odd miles were enough. I learned the hard way while en route to an interview at Kingman Academy High School.
When the car wouldn't go into gear, I got out, later joined by two kids at the AM/PM gas station on Stockton Hill Road, and pushed the car into the Ross parking lot. Amazingly, not one person honked or launched profanities toward me or my cause.
The Focus stayed in the parking lot until the following Friday when my dad and his pal could help me tow it home.
Carless, sort of, I was loaned a 1987 Ford F-150 to get around. It's a gas guzzler – great for off-road driving and hosting late night desert parties – but not for commuting to a place I could easily walk to.
As part attempt to drop some weight and need to not sit on my derriere so much, I reverted back to my days in pedestrian friendly towns like Flagstaff, San Diego and Eugene, Oregon, and decided to hoof it back and forth to work for the next week.
I could've ridden my mountain bike, but figured the ride might make me too sweaty and opted for daily strolls for office sanitation purposes.
Each day, I loaded a lunch, water and a change of clothes in my backpack and hit the road. By changing the route daily, I was able to view Kingman's main traffic arteries as well as the residential neighborhoods from a perspective of someone not just droning through their daily existence.
In the process, I tracked my weight and mileage. My Focus didn't burn too much gas, so I probably save about $20 on fuel. Overall, the walks – about 30 minutes one way, detours not included – gave me about a full work day's worth of clear-mind time.

The things you see when you're not in a hurry.
Monday – 224 pounds, 2½ miles to work
I took the longest route from my house near Wallapai Avenue and Railroad Street and along Stockton Hill Road. The Hualapai Mountain Road and Andy Devine Avenue intersection is one I cross often while walking my dog some mornings. It's usually congested with folks frantically (and often impatiently) on their way to work.
I made a point to scout out how many people were texting or talking on their cellphones. I started to keep count, but not wanting to become enraged at driver's complete lack of regard for safety, gave up after about the 10th car. I also didn't want to get picked up by the police for chucking my water bottle through on open window.

For the trek home, I cheated and got a ride from a co-worker in exchange for a drink later on in the week.
Tuesday – 222 pounds, 3½-miles round trip
One and a half miles straight to work and two on the way home to Mom's to pick up Billie dog.

Mixing up Stockton Hill Road with a few side streets, I noticed how many motorists tailgate each other. At one point on Harrison Street near Kingman Fire Station No. 2, a truck pulled over to let a tailgater pass, probably thinking they'll make a left turn at Andy Devine Avenue, but only preceded to get back in the right lane and make a right turn.
Wednesday 223 pounds, another 3½-miles round trip
Nothing super fascinating to see. Just a leisurely stroll through the city blocks near Fairgrounds Boulevard, waving to neighbors sitting on their porches, enjoying the warm afternoon.
Thursday 224 pounds, 4 miles round trip
Another leisurely stroll through the neighborhood. Crossed paths with a pit bull on the loose. Tried to read the name tag to call the owner, but used common sense and didn't grab a strange animal by the throat.
Friday 221.4 pounds, another 4-mile round trip
Big windy walks each way. My co-worker kept her end of the bargain on the drink.
The most interesting, and non-aggravating, observations was how motorists look at pedestrians in Kingman. Between the walks and waiting at a stop light, I don't know if motorists thought I was homeless or crazy, but you'd think alternate form of transportation was a revolutionary concept in this town.
Kingman Area Regional Transit, with its fleet of nine buses, operates four fixed routes, traveling approximately 190,000 miles annually and providing 7,000 to 10,000 passenger trips each month. KART is funded through fare revenue, advertising, grants and the city of Kingman general fund.
"I have a lot of regulars," said KART driver Regina Dudley. She knows of at least two military veterans who have cars at home, but choose to let her do the driving. "They'll just sit here, chat and read the paper."
Amanda Draine has two kids and no car. She rides from Butler to various appointments and likes the convenience, bus stop locations and mobility.

"The stop is a block from my house," she said. "It's easy to get to and from wherever I need to go."
During the week, I was spotted by friends and family. Co-workers often asked if I wanted a ride, to which I politely declined and explained that I needed to trim the fat and space out on the voyage home.
Thursday's mission was accomplished despite my car situation. On Friday, I got a ride to the KART station at Walmart to interview bus riders and walked back to the Daily Miner office in about 15 minutes.
I didn't lose any significant weight, but I got to watch society tear itself apart inside the mobile cages while I casually strolled down the street.
This could become a habit.