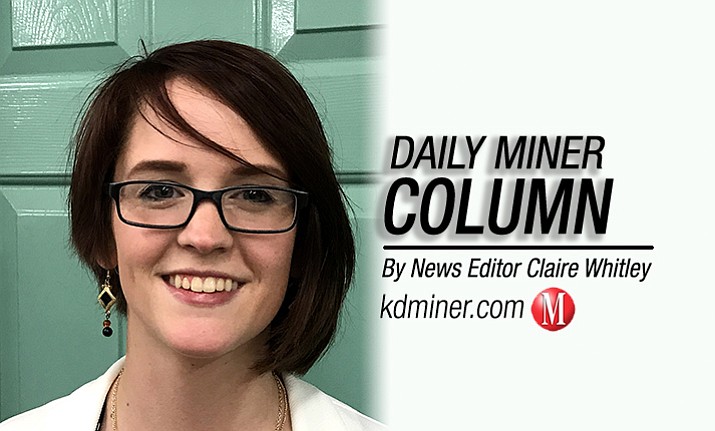 Originally Published: August 2, 2017 5:55 a.m.
I remember the first time I had "the talk" at school.
I was in fifth grade. They separated the girls and the boys and told us about how this was the time of our lives that our bodies were changing. We were going to go through puberty. Start growing body hair. Dealing with the woes of Mother Nature, known as periods.
Back then, to 10- or 11-year-old me, I didn't pay much attention. This was the first time I had really ever heard about what my body was going to do. I figured it wouldn't happen to me until I was old. These were teenager problems.
Now, I grew up in a town a lot smaller than Kingman, but it had similar values. We had 1,000 people in the entire ZIP code, and we had only one ZIP code for the entire town. My class was the largest class to go through the public education system in years. There were 40 of us.
The second time our class had "the talk" though, I was paying attention.
Three years doesn't change much, but all of a sudden, this seemed relevant.
In the eighth grade, in a classroom with about 19 other girls, I wanted answers. They walked us through female anatomy and told us how our bodies would work. They compared our body parts to apples and doughnuts, which in retrospect is hilarious.
They explained our pelvis is shaped in such a way to protect our womb, and thus our babies when we have them.
"But how do abortions work then?"
The room went silent.
The nurse looked at our teachers, our teachers looked at each other, and 19 sets of eyes turned to me. The nurse kindly said she couldn't talk about that at the school, but if I was curious I could ask her on my own free time at the clinic. She quickly continued talking about various foods.
I immediately felt ashamed to have asked a question. This was a new feeling for me. I had never felt bad for asking a question before. My parents encouraged me to ask questions about anything I wanted to know, so I asked the question that was bothering me.
Afterward, after having felt true shame and humiliation and rejection, my science teacher told me it was OK to ask those questions. They were just ones that the school didn't want to answer.
My school's sex ed program taught me abstinence is the only way to avoid STIs, STDs and pregnancy, which is technically true. However, they didn't really go into sexual health or safe sex practices. The use of condoms was glossed over and birth control was all but unmentionable.
As a fifth-grader, I understand that. But as a 13-year-old about to enter high school and start getting ready for college, I felt they were leaving out some vital information.
Especially when, in my class of 40, there were at least three girls pregnant junior year of high school. That's about 10 percent of my class, which, if it was divided evenly between males and females, means that about 15 percent of the girls in my class were pregnant. Big numbers.
Don't get me wrong, I'm not judging these girls or saying that their sex ed failed them. I think the information was there, but people treat sex as taboo. It is something to fear, hate and be ashamed of. No one asks about it. Parents don't talk to their children about it, and most of the time teens are scared to talk to their parents about it.
Therein lies the problem.
I'm still in my early-20s. I'm not a parent. I can't speak on behalf of parents. But, having "the talk" as a teen was scary and uncomfortable. I didn't want to ask my mom about "how babies were made" or whether or not sex was just for reproductive purposes.
However, I knew I could talk to her. And that mattered. It mattered that if I had questions or concerns, there was someone I could talk to. Not a lot of children have that option.
If a teen feels as though their parent is unapproachable, or will judge them or even hate them for having sex, they won't talk about. They won't take the time to learn how to be safe.
So talk.
Talk to your parent. Talk to your child. Listen. Be respectful. Discuss the options that are available. Talk about your values. Explain why you would rather they be abstinent. Don't get angry. Getting angry only reinforces the negative culture surrounding sex.
The street goes two ways. So even if it makes you uncomfortable, whether you're a parent or a teen, have the conversation.