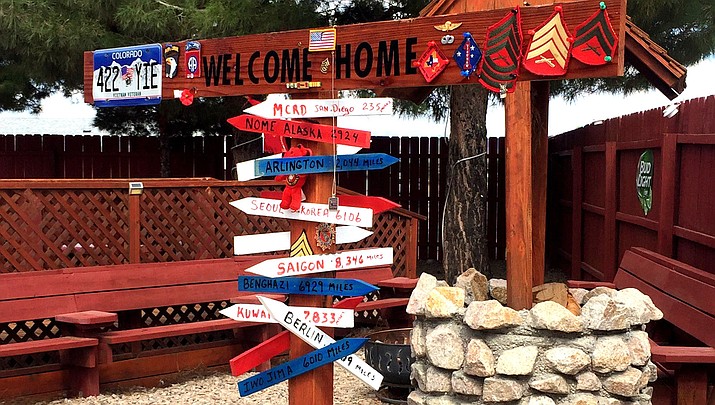 Originally Published: August 2, 2017 5:55 a.m.
KINGMAN – One local veteran has found a way to let other vets recognize their service at a local eatery and watering hole.

About four weeks ago, retired United States Marine Corps Gunnery Sergeant Jim Ashley put up a Veterans Honor Post at Hooch's Kingman Grille as a place for local vets to come together. The post is decorated with military memorabilia such as patches and pins of military units, rank insignia, awards and specialty badges. Also attached are painted slats pointing toward the duty stations and battle sites visited by local veterans.
"It's a place for vets to go and put a memory up or take a memory with them," Ashley said. "But nothing comes off that post."
So far there are at least 13 of the slats nailed up and pointing (with the exact mileage) to places such as Marine Corps Recruit Depot in San Diego, Arlington National Cemetery and Iwo Jima. Veterans and their family members are welcome to add more military trinkets to the post, including slats.
"Name a city, duty station or battle, give it to the bartender, leave your name and phone number, and I'll check the mileage," Ashley said. "I'll make sure it gets up there within 24 to 48 hours. I'll hang it, or they can hang it themselves."
The post stands in Hooch's courtyard, where many people congregate to eat, drink and be merry. Ashley is a Hooch's regular, especially on the Wednesday Bike Nights.
"It's a place to go for vets to talk, and there's always a vet to talk to," he said. "If someone needs to talk and sit and think, there's always somebody there."
Hooch's was totally on-board with the idea.
"We have a lot of vets that come in," said Cheryl Thornton, co-owner with her husband, Mike. "Jim brought it up and we thought 'absolutely, let's do it.'"
Half of the barbeque joint's Bike Night proceeds go to local charities. Each month they pick a different charity, which have included the Jerry Ambrose Veterans Council and Sarah's House women's shelter. They'll be raising money for Kingman Young Marines this month.

"It's not always a military charity, but every charity is Kingman based," Ashley said. "Hooch's is open to and highly supportive of the vets."
Bike Nights are held 5 – 9 p.m. every Wednesday.

"It's a good time to just sit and chat," Ashley said.