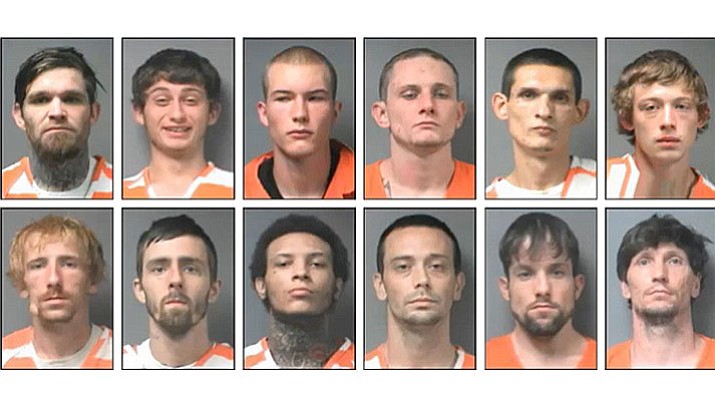 Originally Published: August 2, 2017 5:55 a.m.
Kim Chandler - Associated Press
MONTGOMERY, Alabama – A dozen inmates escaped from an Alabama jail by using peanut butter to change the numbers above a door and trick a new employee into opening another door that led outside, a sheriff said Monday.
The inmates changed the number above a cell to the number that identified the door leading outside the jail. So when an inmate asked a young, inexperienced jailer to let him into his cell, the jailer was fooled into opening the outside door instead.
The group then fled, throwing off their orange uniforms and using blankets to climb over a fence topped with razor wire on Sunday evening.
"It may sound crazy, but these people are crazy like a fox," Walker County Sheriff James Underwood said at a news conference in Jasper.
Inmates "scheme all the time to con us and our employees at the jail," Underwood added. "You have to stay on your toes. This is one time we slipped up. I'm not going to make any excuses."
The sheriff said the inmates "went off in every direction," but all but one were captured within eight hours, and the sheriff said he hoped the last prisoner would be back in custody by the end of the day Monday.
The 11 were arrested without violence, and the only person seriously hurt was an inmate who sliced his thumb climbing over the fence, the sheriff said.
The fugitives were between 18 and 30, facing charges ranging from disorderly conduct to attempted murder.
A manhunt continued for the last fugitive, Bradley Andrew Kilpatrick, 24, of Cordova, who had been jailed on charges of possessing marijuana and drug paraphernalia. That search was getting some airborne help from a state helicopter.
Underwood estimated that the inmates had cleared the barbed wire fence in less than 10 minutes.
"They took advantage of a young fellow that hadn't been here very long" and who had to monitor 150 inmates at a time, the sheriff said. They apparently saved peanut butter from food regularly served at the jail.
Police chief sending officers back to driving school
CASA GRANDE (AP) – An Arizona police chief is sending his patrol officers back to driving school after a slew of minor accidents involving the department's vehicles.
The Casa Grande Dispatch reported Monday that Casa Grande Police Chief Mark McCrory says nine of his department's police vehicles have been involved in accidents since April 5.
There were only five such accidents in all of 2016.
Each collision will cost the taxpayers a $1,000 deducible to the insurance company.
McCrory says four units were damaged in two separate incidents where officers driving vehicles bumped into parked police vehicles. Two were damaged in separate incidents where officers struck poles.
With the exception of a water-damaged vehicle and one of the vehicles that hit a pole, all of the cars are already back in service.
1,700-pound barbecue pit stolen from restaurant
ALBUQUERQUE, N.M. (AP) – Police are investigating a bizarre heist of a 1,700-pound barbecue pit from a popular Albuquerque restaurant.
The Albuquerque Journal reports police say the black and red 200-gallon smoker smoke was stolen early Sunday.
Daniel Morgan, the owner of Pepper's Ole Fashion BBQ, says the smoker was cooking up a batch of brisket when it was taken.
Morgan says most of the meat the restaurant serves is prepared in an indoor barbecue pit and he uses the custom built apparatus for catering gigs. No arrests have been made.
Morgan says he considered launching a crowdfunding page to help cover the $5,800 costs of a replacement.