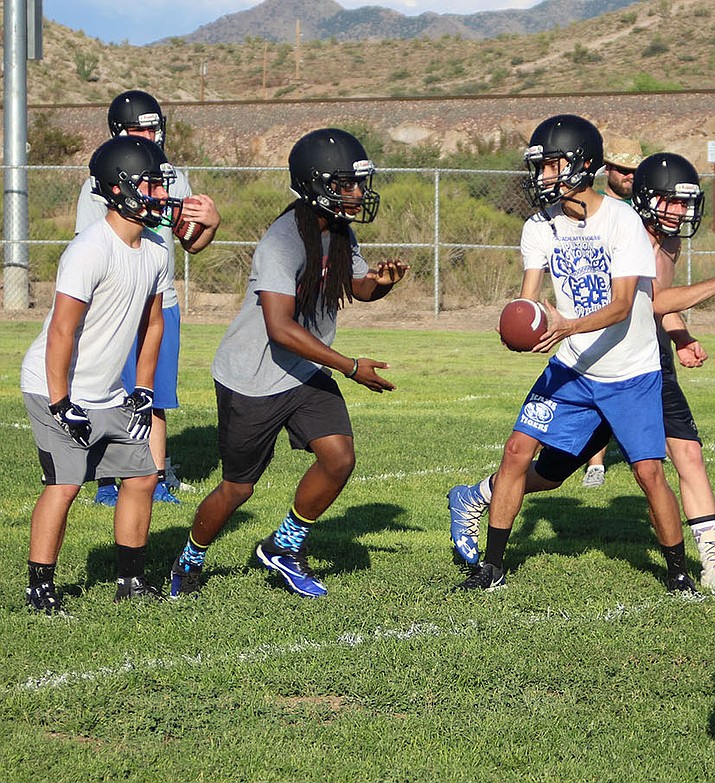 Photo by Beau Bearden.
Originally Published: August 2, 2017 5:59 a.m.
KINGMAN – Entering his fourth season as Kingman Academy football coach, Dan Stroup has high expectations for the 2017 season. The Tigers are made up of a strong senior class and Stroup sees endless potential.
"This team could be a special team," he said. "It's because when you look out there, from top to bottom, it's a strong team. … Have we had better players? Sure – as individuals. But as a team on offense and defense, we're pretty excited."
Kingman Academy held its first official practice Monday at Southside Park, and the Tigers could be found participating in a number of drills in their helmets. While the AIA passed legislation allowing practice to begin July 24, Stroup had already set his start date for Monday.
"They changed the date during the summer and I'm pretty big on honoring my word," Stroup said. "… We could have started last week, but we wouldn't have had half these guys out here. They still would be on vacation, and I'm not going to penalize them because we changed. Next year, we'll be out there with everybody because that will be the date."
Even though Kingman Academy is starting a week later than most teams, Stroup doesn't see it having a negative impact. He did mention it might if this was his first year, but the leadership transition has proven to be much easier since the majority of the Tigers were with him as freshmen.
While the upperclassmen are sure to play an important role in 2017, Stroup also sees some new faces making an immediate impact.
"We're excited about our freshmen class," he said. "There are some good kids that will help us. There's no doubt on that. They'll play as freshmen. We've always had that at the Academy, we've been pretty blessed."
While it's too early to tell how Kingman Academy will fare this year, Stroup is focused on not looking too far ahead.
"I think you go into every game and every season saying, 'hey, we're going to win 10,'" Stroup said. "If you get tagged somewhere along the way, you're going to be 9-1. … We take it one game at a time. I always say, 'We're going to be 1-0 this week.' You ignore the noise and go do what you have to do."