Originally Published: August 2, 2017 6 a.m.
KINGMAN – Tennil Reed has spent almost four and a half years training to get to this point.
The Kingman High School graduate will join competitors from more than 30 countries at the 11th annual CrossFit Games starting Thursday in Madison, Wisconsin.
"I made it to the Games last year and I never imagined past that," Reed said. "Now I'm going back again and my goal is to try and win. I never imagined myself trying to win the CrossFit Games, I just wanted to get there and do my best."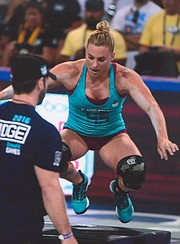 While she didn't know it then, Reed's journey to the Games began when she was growing up in Kingman. She admitted her time in the small town allowed her to do things she wouldn't be able to do anywhere else.
"I used to jump over fences and run from my sisters and play hide-and-seek out wherever," Reed said. "Now, I do that stuff in my sport. I have to jump over walls, climb under things and climb things. My background just kind of helped me in what I do now."
Reed's upbringing laid the foundation for her success in CrossFit, but she has to do a lot more than just workout on a regular basis. She has a strict eating routine along with going to bed and waking up at the same time every day. That's in addition to working out six to seven hours a day.
"It's a lot. You have to align your life with your goals," Reed said. "It's not just about the time you put in at the gym. Once you get home, you have to do all this recovery stuff so that you can get up and do the same thing again the next day."
However, there are times during training where she faces adversity. She mentioned sometimes she gets really tired and frustrated with herself. That doesn't stop her though, as she remembers she has people there to support her.
"My parents are the best," Reed said. "They're always encouraging me to reach for the stars. My dad always told me I could do whatever I wanted to do. I've lived my life by that – if I want something, I'm going to go for it."
Now is the time for her to take those words to even greater heights as she competes for a $2.4 million prize purse during the four-day event that concludes Sunday. Action starts each day at 8 a.m. and will be televised on CBS Sports and CBS, in addition to being live-streamed on Facebook.
Reed did make the trip last year and will lean on that experience this week.
"There's an advantage in knowing what's going to happen, a little bit more peace of mind," she said. "But you never know what the events are going to be – it's different every year."
While Reed won't know exactly what obstacles she will face, she does know her mom, two of her sisters, her husband and his sister will be in attendance cheering her on.
But when it comes time to compete, Reed usually cuts out all of the noise.
"Sometimes if I hear people cheering, it pumps me up," she said. "But most of the time, I'm in the zone doing what I have to do."