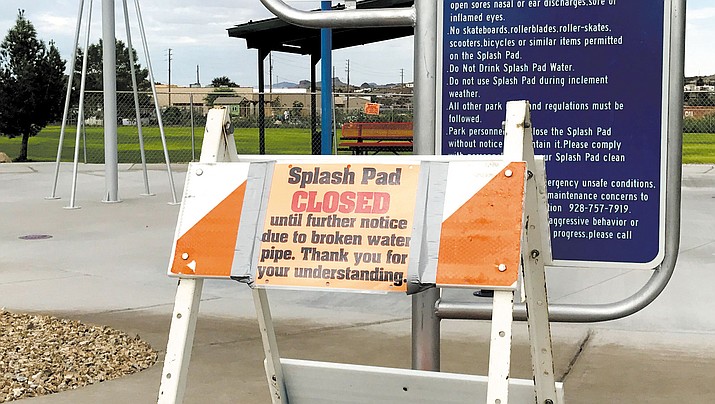 Photo by Aaron Ricca.

Originally Published: August 2, 2017 5:55 a.m.
KINGMAN – The Splash Pad at Cecil Davis Park is out of commission – for now.
City of Kingman Parks and Recreation crews are repairing a pipe that broke under the concrete in the Splash Pad mechanical room on Saturday.
"We are working to get it repaired as soon as possible," said Parks and Recreation Director Mike Meersman. "We have to make sure that anything that we do is first and foremost safe and does not impact the Splash Pad warranty."
The costs associated with repairs will be covered by Play it Safe, the company that built the water features, which lures hundreds of families each week to Cecil Davis Park to beat the heat.

Crews haven't determined what caused the pipe's damage, but Meersman said it could be due to a pressure fluctuation in the water lines.
There's also no word on exactly when it will reopen. Parks and Rec hopes to have the pad up and running by the end of the week, but also wants to ensure the repairs are done correctly.