Photo by Beau Bearden.
Originally Published: August 4, 2017 6 a.m.
KINGMAN – The Lee Williams High School volleyball team has yet to officially start practice, but it doesn't have to worry about a lack of players when the Lady Volunteers hold tryouts Monday.
While not every girl will make one of the three teams, Lee Williams coach Julia Lasiloo is pleased with the turnout.
"It's an excellent sign to have 52 girls just show up for open gym," she said. "I ended up having 35 freshmen. That's a great thing to have that many freshmen come up and try something new and get to know the game."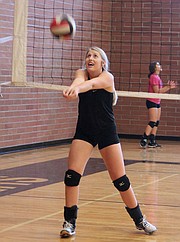 Lasiloo attributed the high numbers to a great effort by the area middle schools and their coaches. In addition, the local club volleyball team also helps players compete year round.
"A lot of these girls are a lot more progressed than other cities," Lasiloo said. "The traveling volleyball team, the Desert Stars, is doing great things for these girls. I would say a majority of the girls play during the travel season."
Even with the Desert Stars in full swing, Lasiloo still had 25-30 girls every Monday and Wednesday throughout the summer for open gym. The great turnout definitely is a good sign, but it does result in Lasiloo having to make some tough decisions.
"This year is going to be extremely difficult due to the fact that the incoming freshmen have so much talent," she said. "I told the girls that from senior to freshmen, there's no guaranteed spots on this team. It's going to be a good fight for positions, which is good for competiveness and the team overall."
Lee Williams has plenty of time to figure out who will make the cut, but Lasiloo said all three teams will be decided by Thursday evening. That might not have been the case if she didn't have the benefit of holding open gym.
"With school starting so early, it's good to have this week to let them come out and enjoy volleyball," Lasiloo said. "Let them get them warmed up before tryouts do start next week."