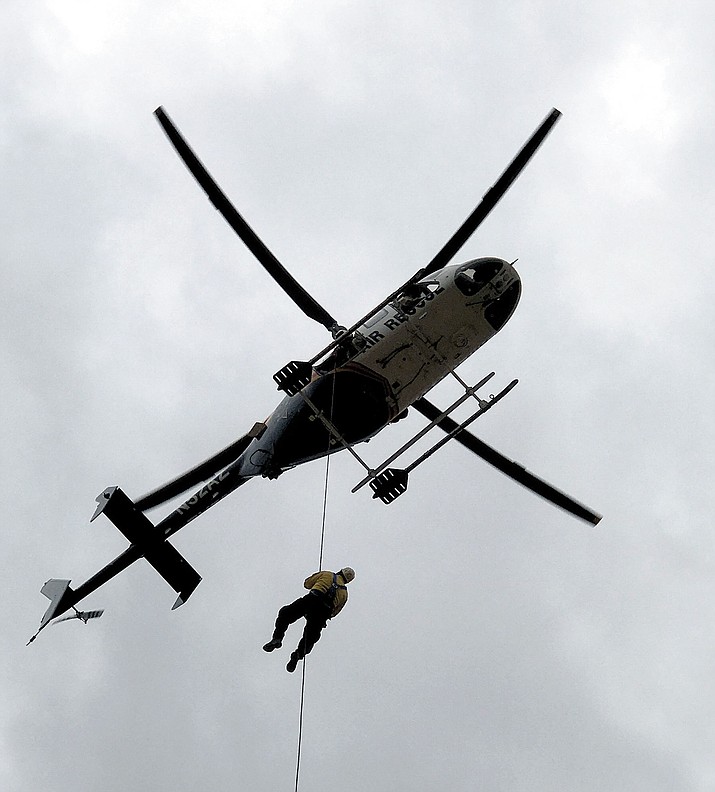 Photo by Aaron Ricca.

Originally Published: August 7, 2017 6 a.m.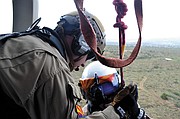 You've probably seen it hovering in the skies over Kingman.
The Arizona Department of Public Safety's Ranger helicopter covers northwestern Arizona as Western Air Rescue, assisting first responder agencies with search and rescue, medical evacuation, law enforcement and even firefighting.
Along with assisting in emergencies, assisting other agencies with training is also in their repertoire.
DPS Trooper, Technical Rescue Instructor and base supervisor John Rodriguez, troopers or medics Daniel Townsend, Craig Bremer and pilot David Marrama were hovering above the base of the Hualapai Mountains Tuesday, training with members of the Colorado City Fire Department and Mohave County Search and Rescue and getting them recertified for rappel rescues, one of their many responsibilities.
The Mission

In order to cover the entire state, DPS stations Rangers in Kingman, Flagstaff, Phoenix and Tucson. Each can overlap territories and even assist in other states. They will not cross the U.S./Mexico border.
The Rangers are a reactionary force, meaning they will only respond if called. They don't hover around waiting for action to happen and they won't land at your party.
"We go when we're asked or for training," Rodriguez said. "Wherever we go is always about public safety."
Kingman's station has a crew of three pilots and three medics, including Rodriguez. They work 24-hour shifts, with at least 24 hours off in between shifts. There's no pattern to the call volume. They average one to two flights a day, sometimes none at all. They recently got five calls in one day and were on their way to assist the July 25 Brown Drilling crew's swift-water rescue when they were canceled and diverted to another incident.

Their station, located behind Kingman Regional Medical Center, has similar amenities as a fire station – a kitchen, showers, bedrooms, a meeting room and exercise equipment. The crews aren't just sitting around waiting for a mission, either. They manage a schedule of training, maintenance and sleep. They start the shift with a risk assessment of themselves (how they feel physically and mentally), their equipment, communications and weather. Everything has to be spot-on. If not, flights can be delayed or end in tragedy.
"It's a huge safety issue," Rodriguez said.
The Chopper
The Bell 407 helicopter operates with a minimum crew of a pilot and trooper or medic. Once a call comes in, depending on the nature of the mission, Ranger can be in the air in about six minutes. It takes Ranger about two minutes to warm up and during that time, troopers are performing communication checks, verifying coordinates if needed, checking weather conditions and calculating fuel capacity with necessary fuel stops.
"We make sure we have all the information we need," Rodriguez said.
The pilot will not take off unless absolutely sure the bird is ready to fly.
"We strive for safety," Rodriguez said. "We're no good to anyone if we crash. We just become part of the problem."
Getting to their destination is dependent on numerous variables. Ranger has a top speed of 140 knots, or 160 mph. Ranger's performance is limited by weight (fuel, equipment and personnel), temperature, altitude and of course, weather. Ranger will fly in the rain, but lack of visibility will stall a mission. They can fly around a storm, or land and wait it out. Flying in snow is a no-go.
"It's not the rain. It's the clouds," Rodriguez said. "You never know when they're going to drop."
Ranger carries 130 gallons of fuel with a maximum flight range of 2.5 hours on a full tank. That time can vary depending on weight, tailwinds and weather. Ranger can carry three adults plus a patient lying down. Without the patient lying down, it can haul up to five adults. It can carry an external load – including water buckets for firefighting – but is limited to 6,000 pounds maximum gross weight.
"I've stuffed six kids in there," Rodriguez said of a 2014 Gila County rescue.
Flight times vary. At a normal cruise speed of 135 mph, a trip to Phoenix takes roughly an hour. They can reach the Hualapai Mountains in under three minutes and Bullhead City in 12.

Kingman Police and the Mohave County Sheriff's Office often requests the use of Ranger for law enforcement and search and rescue operations. Ranger crews are equipped with night vision goggles used during pursuit or fleeing suspect calls and missing person cases. 
Most recently, Ranger assisted KPD and MCSO during the May 14 pursuit of a suspect involved in a Wikieup stabbing.
"Ranger is a valuable resource to Northwestern Arizona law enforcement and EMS first responders," Cooper said. "We are very grateful to DPS for their service to our region."
Ranger assisted MCSO on numerous occasions this year. The calls included locating stranded and lost persons, recovering dead bodies, transporting injured persons and even chasing down bank robbers.
"DPS Rangers are extremely instrumental to our operation at the Mohave County Sheriff's Office," said MCSO Spokeswoman Trish Carter.
Kingman's Ranger cost $2.4 million after radios, navigation equipment and other additions. Rodriguez estimated an hourly operational cost of $707 in fuel, manpower and maintenance. The Phoenix DPS Ranger station will be outfitted with a Bell 429 GlobalRanger later this year. The new Ranger will be equipped with twin engines, a hoist and updated electronics. No word on when Kingman will get one, but Rodriguez can't wait. Kingman's Ranger is 13 years old.
"There are a lot of rescues we can't due because of the limited power," he said.
The Reward
The Ranger crews deal with an operational buffet of dehydrated hikers, snake bite and heart attack victims, flipped quads, injured horseback riders and even the occasional suicide victim.
"People jump off Burro Creek Bridge," Rodriguez said. "Or they'll just drive out to the middle of nowhere and end their lives."
Ranger has also enforced no-fly zones and provided air security for prominent politicians. They've worked with the FBI, ATF and the Secret Service on missions such as Sen. John McCain's 2008 presidential campaign, a Sedona golf trip by former Vice President Joe Biden and illegal marijuana grow operations.

"Being in law enforcement, we get to do that," Rodriguez said.

With the exception of pilots, the medics are all sworn DPS troopers. Rodriguez's father, Dan, was with Kingman Police Department for more than 30 years. Rodriguez was a firefighter and paramedic with Kingman Fire Department for 13 years before joining DPS in 2008. He made the shift when he realized how versatile DPS operations could be and his medical service with KFD expedited his transition into air rescue.

"I've always liked law enforcement," he said. "(Aviation) sounded excited and looked cool. It was an easy fit."
Judging by the looks on everyone's faces while repelling near the Hualapai Mountains Tuesday, the crews seemed to get a thrill out of their job. Rodriquez does.
"Every day I feel like I've accomplished something," he said. "Even if we don't find someone we're looking for, it's knowing we're here to back up whatever agency we can. We're making a positive difference."