Originally Published: August 7, 2017 5:59 a.m.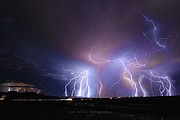 LAKE HAVASU CITY – While many seek shelter as the monsoon storms roll in, two Lake Havasu City residents greet the lightning filled skies with flashes of their own.
Amateur weather photographers Jon Fotino and Mike Minery agree that, although risky, their hobbies are driven by their passion for photography and hope to capture the perfect photo.
"I've never gone to school for photography, I've always just kind of had a passion for it, even before I got a camera, I'd use my cell phone or use my mom's little point-and-shoot camera to take pictures," said Fotino, 24.
Five years ago, Fotino bought his first camera – a used Canon Rebel T3i – and gear for $500, he said. He also bought a wide-angle lens for another $450. Since then, he's referred to YouTube and Google to learn the basics of photography, his favorite genres being weather and star photography.
On the other hand, Minery, 49, has been chasing storms since he moved to Havasu in 2003. Since then, he's invested a couple thousand dollars into his gear, which includes a Canon 80D, he said.
"I had seen this one guy's pictures from when he was out on the Island and I was hooked," Minery said. "I've learned it all on my own cause I've always been into electronics and tinkering with things … I don't read manuals or anything, I just figure it out myself."
Reid Wolcott, a National Weather Service meteorologist, said, due to its inherent danger, they do not encourage people to chase storms for photos.
"I'm a meteorologist and I won't go shoot lightning shots unless it's 20 miles away from me," he said.
He said if a storm is right over the top or within five to 10 miles of a person, they should not be outside taking photos. Rather, they should remain inside or in their vehicles with the windows rolled up, he added.
"If it's on the other side of the lake or behind the mountains then, yeah, it's probably going to be OK to be outside but if you can hear the thunder, you're within striking distance of lightning," Wolcott said.