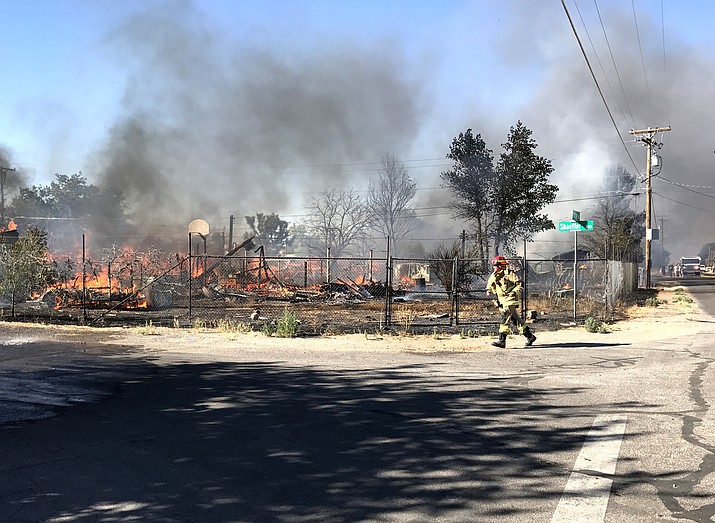 Photo by Aaron Ricca.
Originally Published: August 8, 2017 12:39 p.m.
KINGMAN – Kingman Police are treating a Sunday dumpster fire as suspicious.
According to Deputy Chief Rusty Cooper, the Kingman Fire Department and police responded shortly before midnight to a dumpster fire at Centennial Park along the Burbank Street parking lot. Investigators believe the fire was set intentionally.

This is the second suspicious dumpster fire within a month. KFD and KPD responded to a late night dumpster fire at 3333 Harrison Street July 16. Investigators determined it to be arson that caused approximately $250 in damage.
There has also been a report of a vehicle fire behind Boyd's Outlaw Sleep Centers on Stockton Hill Road July 24. No further information has been provided.
An Arson Task Force made up of area law enforcement and fire investigators have joined forces in an effort to capture the person(s) responsible for intentionally lighting brush and dumpster fires and an arson fire that destroyed four homes and several vehicles on Devlin and Hearne avenues July 2.

Since 2013, KFD and the Northern Arizona Consolidated Fire District have responded to several hundred brush fires, many of which are believed to have been set intentionally. KFD has also responded to numerous dumpster fires that were also set intentionally. Since the beginning of 2017, KFD and NACFD have responded to more than 120 brush fires that can be described as suspicious in origin. Rewards totaling $15,000 are being offered for information leading to the arrest and apprehension of those responsible.
Anyone with information is urged to contact local law enforcement and fire agencies, report anonymously to Mohave Silent Witness at 928-753-1234, or report tips online by going to www.kingmanpolice.com and clicking on "Give a Tip."