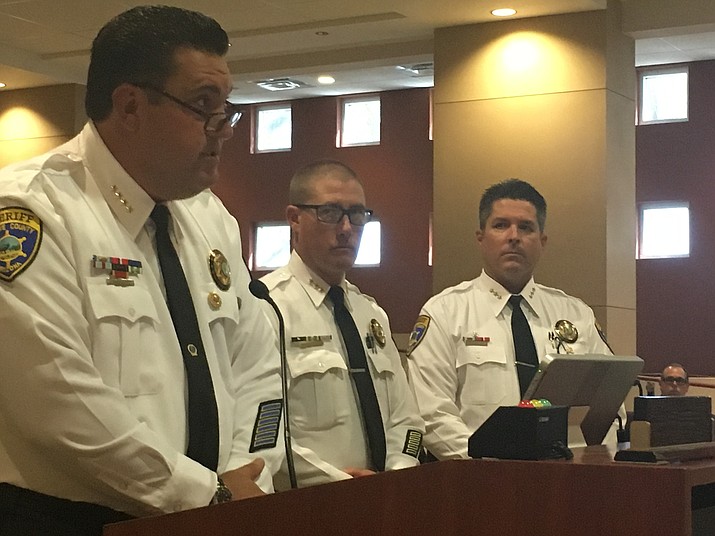 Photo by Hubble Ray Smith.
Originally Published: August 8, 2017 11:18 a.m.
KINGMAN – After a record-setting nine-hour meeting that included comments from nearly 50 citizens and four proposals that failed, the Mohave County Board of Supervisors voted 3-1 Monday evening to pass the final budget for next year with no increase in the property tax rate and no additional money for the sheriff's department.
It was a huge disappointment for Sheriff Doug Schuster and about 20 deputies who lined the back two rows of the nearly packed auditorium at the County Administration Building.
"I'm disappointed for my staff and I'm even more disappointed for the citizens of Mohave County," Schuster said after the vote. "We're spending millions of dollars when we're down 20 to 30 positions. It's just a repetitive cycle we'll continue to try to break."
In the end it was Supervisor Gary Watson's motion that won the vote, with Supervisor Hildy Angius opposed because she was insistent on funding the Mohave County Sheriff's Office for $1.6 million to address wage "compression" issues.
The final budget presented by Finance Director Coral Loyd totaled $281.9 million, with $89.8 million going to the general fund.
Watson came up with a plan to take $2.8 million from a number of contingency funds, or reserves, to cover the budget deficit.
He took $612,000 from the Employee Benefit Trust, $600,000 from the flood district, $600,000 from the library district, $100,000 from janitorial services, $100,000 from maintenance, $200,000 from environmental health and $540,000 from the motor pool replacement fund.
"There's no increase in property tax. It doesn't solve the sheriff's problem and courthouse (renovation), but it pays for the current liability on two pensions," Watson said.
The county is on the hook for about $39 million in payments for the Public Safety Personnel Retirement System and Elected Officials Retirement Plan, and is looking at renovating the downtown courthouse at a cost of at least $20 million.
More like this story