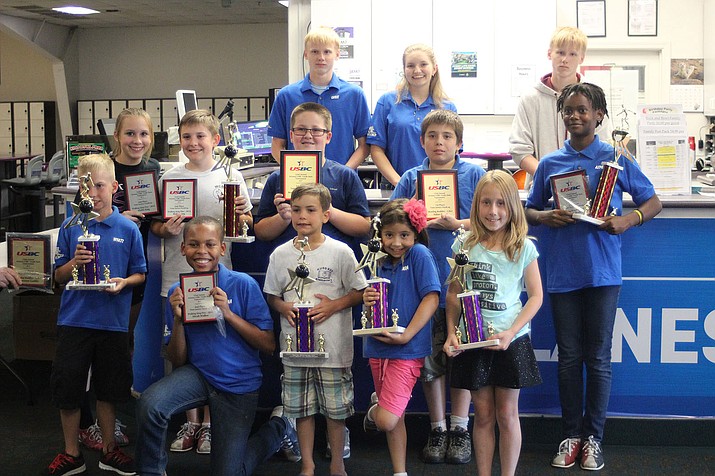 Photo by Beau Bearden.
Originally Published: August 10, 2017 6 a.m.
KINGMAN – Many Kingman residents may not know it, but Cerbat Lanes hosts a youth bowling league and 23 of those bowlers went to the 51st Annual Youth State Tournament in Tucson in late April and early May.
"This year we sent six teams down there," league instructor Dee Lindsay said. "Four out of the six teams got some type of award. All 23 kids that went earned scholarship money of some amount."
Those bowlers were honored Monday at Cerbat Lanes in addition to being awarded with summer league awards based on age group.

"We've had a pretty good showing at the state tournament," youth instructor Jim Griffith said. "We do pretty well as far as placing."
For those not familiar with the award structure, Lindsay gave background on how it works.
"In the state tournament, one for every five entries in the age group gets scholarship money," she said. "The first three places get trophies."
However, bowlers don't just show up at the state tournament without a considerable amount of practice. Cerbat Lanes helps with that cause, as it hosts youth leagues. The next one starts Sept. 9.
Bowlers from 4 to 19 years old will be placed in three divisions, and registration is noon-2 p.m. Saturday at Cerbat Lanes.
"I've had youth bowlers as young as three," Lindsay said. "As long as they can roll or push the ball down the lane."
The league consists of two 15-week sessions with a break during Christmas.
There is also an adult/youth scholarship league that also starts Sept. 9. For more information, contact Lindsay at 928-279-6269.
"It's a good program that kids can do year round," she said. "The adults can bowl as well as the kids. I'd like to encourage more families to get involved."
For those on the fence about joining, Griffith offered a few words of encouragement.
"It's a sport that just about anybody can do," Griffith said. "They don't have to be the biggest, fastest or jump the highest.
"About any kid can learn to bowl."