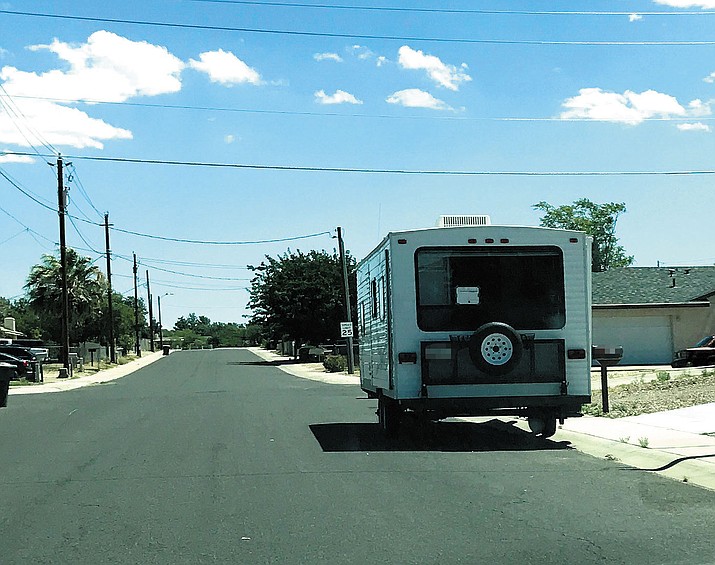 Photo by Aaron Ricca.
Originally Published: August 10, 2017 5:59 a.m.
KINGMAN – In the name of public health, safety and welfare, the Kingman City Council has directed staff for a new or amended code to ban the parking of recreational vehicles on city streets in residential districts.
Vice Mayor Jen Miles put the issue on council's agenda for the Aug. 1 meeting after she became concerned that some of the parking on city streets had become hazards, but balanced the sentiment by noting the current code being extreme in some measures.
"It's such a safety concern," Miles said. "But at the same time to not allow parking in side yards isn't right."
The current code allows for boats, truck campers, camping trailers, etc., to be parked on the street, but not in front yards. They can be parked in side yards and backyards, but there are restrictions. These recreational vehicles have to be behind "a solid fence, wall or approved screen planting … to prevent any view of the storage space from the adjoining residential areas," the city code reads.
"This leads to conflicting issues," City of Kingman attorney Carl Cooper said. "Residents can't park in their yards, but they can park in the street."
Cooper explained that if these vehicles are going to be banned from the street, then the residents have to be allowed to park them on their property.
Mayor Monica Gates was slightly hesitant because she wanted to be certain about enforcement and penalties. She was concerned about making sure a new ban could be enforced and what the penalties would be if violations were cited.
Cooper explained the new code would most likely be on a complaint basis, such as a neighbor calling in about an illegally parked vehicle. He hoped the penalty would be akin a parking ticket.
Kingman Police Department Chief Robert DeVries told the council his department would do the same in educating the public to a new code just as it did when the cellphone ban while driving campaign took place.
KPD used a media campaign and a warning system for several months before citing those talking on a cellphone while driving.
Council ended the discussion by directing city staff for a new code or amending the existing one to ban the parking of recreation vehicles on city streets in residential areas.