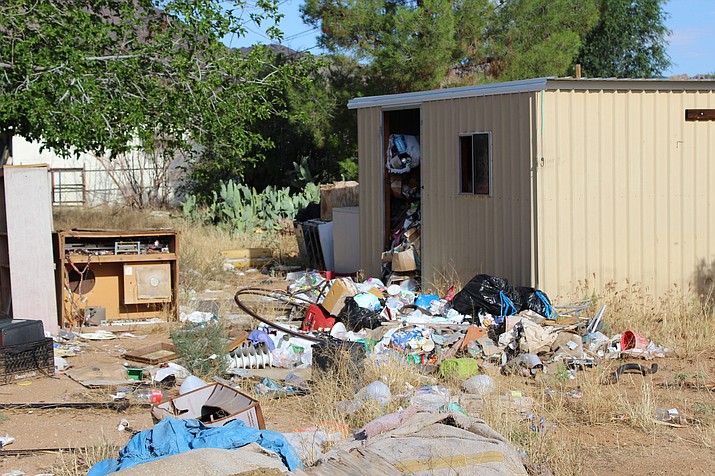 Photo by Shawn Byrne.
Originally Published: August 10, 2017 5:57 a.m.
KINGMAN – An effort to create a code enforcement fee of $3 per ton for trash taken to the landfill failed in a 2-2 vote Monday by the Mohave County Board of Supervisors.
The proposed fee was brought before the board by Development Services to fund a code enforcement program that included an attorney, two more code enforcement officers and a senior office assistant.
Two positions would have been transferred from Public Health to Development Services, along with assigned vehicles and funding.
County Administrator Mike Hendrix said the hope is to make the code enforcement program self-sustaining through landfill fees. The county has established legal grounds for the fees, he added.
Funding of the program would be reviewed annually along with landfill rates, evaluations and adjustments.
"I'll vote no on this because we already have laws in place," said Supervisor Buster Johnson, who was joined by Supervisor Hildy Angius in opposing the landfill fee. "If the court system worked, we wouldn't have this problem."
The county has to give people a 30-day notice to clean up their trash, and that often turns into 60 days. Then they show up in court, pay their fine and are turned away by the judges, Johnson said.
Trashed properties are one of the biggest complaints when people first visit Mohave County, said Supervisor Jean Bishop.
"Big companies come and look around the neighborhoods and what the homes look like," she said. "Our citizens are tired of Kingman looking like trash."
One member of the audience spoke to the board about a trashed property in his neighborhood that has gone two years without being cleaned up.
The landfill fees would pay for an attorney whose sole focus would be code enforcement, Bishop noted.
At their June 5 meeting, supervisors directed staff to develop a proposal to proactively address trash and other environmental nuisances, along with zoning and building violations, in accordance with state law, and to propose a funding mechanism.
The county allocated $454,175 in 2017 for zoning and building enforcement. For 2018, funding of $342,897 was recommended for Environmental and Rural Area Cleanup Enforcement, or ERACE.
The closure and post-closure fund for the existing landfill is currently estimated at $10.8 million, with about $8.5 million needed for the closure. Fees collected for the landfill closure would have been reduced by $3 a ton, and the $3 would have been added to the landfill fee for the enforcement of trash, junk and debris ordinances.