Originally Published: August 11, 2017 6 a.m.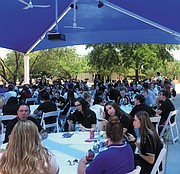 Kingman's youth got their say in the Town Hall process.
As part of Arizona Town Hall's genK community collaboration efforts, 168 students from Kingman, Lee Williams and Kingman Academy high schools as well as the Kingman Unified School District's Positive Alternative Campus, attended the three-hour "Give the Youth a Voice" event at Mohave Community College Tuesday.
A committee of business and civic leaders, including those from Unisource, Mohave Community College and Kingman Chamber of Commerce, were present to host the gathering. Bill Ward, chief executive officer of Boys & Girls Club of Kingman, acted as the committee chairman.
"It was very engaging," he said. "It was inspiring for the adults to see that kids are interested in seeing progressive change in our community."
As with the Town Hall meetings over the last few months, there was a series of discussions to figure out what could help shape the future of Kingman. To get the teenage neurons firing, the kids were asked what they thought Kingman's unique attributes and strengths were.
Answers included historical significance of the community, the kindness of Kingman residents and being a great location for attracting tourists with its proximity to popular destinations.
Students also pointed out Kingman's weaknesses.
"There's a lack of camaraderie between schools," said LWHS sophomore Jocelyn Graffius.
She mentioned the various programs between the schools (KHS with its culinary program and LWHS with its auto shop classes, as an example) have different classes that could benefit the whole community.
"Why not come together and share the campuses," Graffius said. "We can grow more as a community rather than try to better the individual schools."

Teens were asked what they hoped Kingman to look like in 20 years. The majority of responses included more youth-focused activities and job opportunities. They'd also like more variety in dining, shopping and entertainment.
KHS senior Celine Lucero-White is apparently reading the minds of some local adults.
"A laser tag arena or recreation center would be nice," she said. "And how about a roller rink? There used to be one here. Open it back up."
LWHS junior Marian Esplin would see Mohave Community College expand its academic menu to attract more students.
"You see what happens with a town that has a university," she said. "It brings in more culture and diversity."
When asked how to improve the quality of life in Kingman, results included improving safety and modernization. Apparently Kingman Crossing was on their radar.
"We need to stop expanding on Stockton Hill Road and expand off of I-40," Esplin said. "There's no good access to anything, so people just drive on through."
Teens got to harp on Kingman's business, civic and elected leaders. According to Ward, Mayor Monica Gates was out of town and no members of city council were present. Kids are just as impatient as adults when it comes to progress in Kingman.
"Just get stuff done," Graffius said. "They need to stop talking about it, and get to work."
Finally, the teens were asked to name one action they would take to contribute to the community, be it by themselves or with their school, family and other organizations.
The "I Will …" pledges included continuing to be active in events like the Town Hall and city council meetings, working with friends to keep the drug problem at bay and combining activities between all of the Kingman schools.
"I will volunteer and participate in community service," said KHS senior Carlos Rodriguez. "It's truly the only way to help out as a teenager."
Some students volunteered and some were "volun-told" to attend the event in MCC's spacious conference center.
"I didn't know what it was going to be like," Graffius said. "I thought it was going to be in some lecture hall, but when I saw the balloons, I knew it was going to be cool."
KHS Student Council advisor Jennifer Jackson went with her students and said they could've stayed all day.
"The room was electric," she said. "So far, adults have done all the talking. No one has asked for the youth input."
There were adults present to keep the teens on track, but in no way were they there to sway their opinions.
"This was a great opportunity to share our voice and express our views about the community," Esplin said.
Ward was impressed with the enthusiasm.
"The passion these kids had yesterday," he said. "They really do have a vision for this community."
Two more Arizona Town Hall genK events are scheduled in August.
Several youths from the meeting will be selected as representatives to the Aug. 19 Community Collaboration Session. The event runs 8:30 a.m. to 4:30 p.m. at Beale Celebrations, 201 N. Beale St. Continental breakfast, snacks and lunch are provided.
Preregistration and the $5 registration fee for Aug. 19 are required by 5 p.m. Aug. 17 and can be done at www.genkaz.com.
Bill Ward contributed to this report.