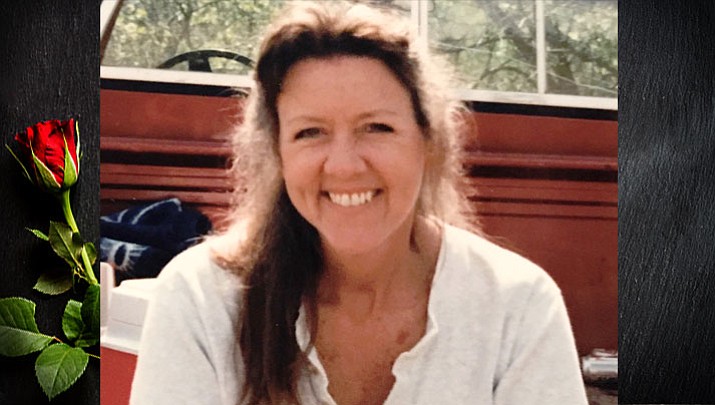 Originally Published: August 13, 2017 5:59 a.m.
Paula Jean Huddleston was born on February 23, 1956 to Frank and Margaret Huddleston in Taft, California. She passed away peacefully at home on July 29, 2017, in Kingman, Arizona.
Paula was the youngest of five children and grew up in Laguna Beach, California as well as Tustin, California. She attended Foothills High School in Tustin, California for two years and then moved to Merritt Island, Florida where she graduated from Merritt Island High School in 1974.
Back in 1985, Paula and her son settled in Wardner, Idaho where she worked for Fausett Mine Services, Bestway Roofing and Barneys.
In 1999, she married Roger Bassemier in Kingman, Arizona. They resided in Kingman where she worked for Stockmen's Bank and Pinnacle Grading and Heavy Equipment.
Paula loved art. She did drawings, paintings, macramé and stained glass. One of her greatest stained-glass masterpieces is beautifully hung in the custom doors she made for her home.
Paula had a fond love for horses, dogs and was always taking in stray animals and feral cats. She always made sure they had a loving home with her.
Paula is survived by her husband, Roger Bassemier, her son, Gary (Tara) Edwards, her three grandsons; Tyler Edwards, Tristen Edwards, Tobey Edwards and one great-granddaughter, Harper Edwards. She is also survived by three siblings; Richard (Susan) Huddleston, LuAnn (Dick) Benton and Frank (Cathie) Huddleston, two nephews and one niece. She was preceded in death by her parents Frank and Margaret Huddleston, and one brother, Kevin Huddleston.
At Paula's request, no services will be held.
Paula's contagious smile will be missed by all who new her.
In lieu of flowers and in honor of Paula's love for helping animals, the family asks that you contribute to: Low Cost Spay/Neuter FOUNDATION/TNR in Memory of Paula Huddleston, 1707 E. Andy Devine Ave., Kingman, AZ 86401.