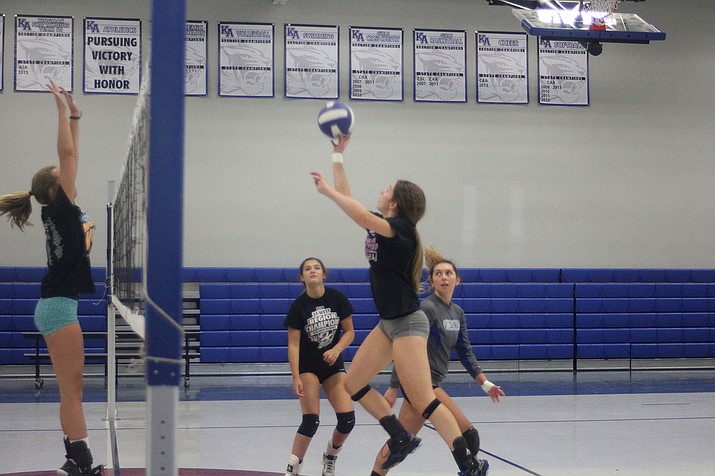 Photo by Beau Bearden.
Originally Published: August 13, 2017 6 a.m.
KINGMAN – It's been a jam-packed week of bumping, setting and spiking for volleyball players at area high schools. The frenzy was similar at each school, but even more so for Kingman Academy's new volleyball coach Bill McCord.
"It's a little hectic because I don't know all the girls, especially the new ones," he said. "I know all the older ones because I teach them every day. I'm getting it all organized and figuring out what's going on."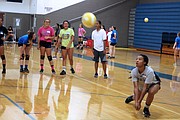 Kingman High School volleyball coach Molly Creagh knows the feeling after taking over the Lady Bulldogs last season, but she is more confident going into her second year.
That familiarity is allowing Creagh to focus on making practice more valuable for the team.
"Last year we did the mile and it just took too much time," she said. "I've learned what needs to take precedence – more touches on the ball is what I care about. Seeing the actual athletic ability rather than how long it takes for them to run a mile."
McCord, on the other hand, may be the new volleyball coach, but he isn't a stranger to leading a team.
"I've been coaching a while," McCord said. "I've coached our softball team, I've helped coach our softball team and I've been with the girls for years. I'm a little stricter, I think, and they're going to see that in the coming weeks."
While each team undoubtedly will feature different coaching styles, one similarity of all three area schools is a good turnout at volleyball tryouts. It's not only a positive sign for the sport's growth in Kingman, but it also provides more competition.
"Since we have such high numbers, it's going to be a little bit more competitive on who is going to be on varsity versus JV," Creagh said. "A lot of girls have that in mind through tryouts – they know they're going to be somewhere, but they want to make sure they beat the other girl (for a spot)."
That decision for Kingman and Lee Williams high schools was made as of Thursday afternoon. Kingman Academy, however, hasn't decided on its teams as school doesn't start until Monday.
With that said, Creagh is trying something new this year to make sure the team stays together as one even after she decided on the varsity and junior varsity squads.
"One thing we're doing different this year after tryouts is we're going to have a 'lock-in,'" Creagh said. "We're going to do team-building all night long. I think that will build our program and not just our individual teams. So that everyone will support each other."