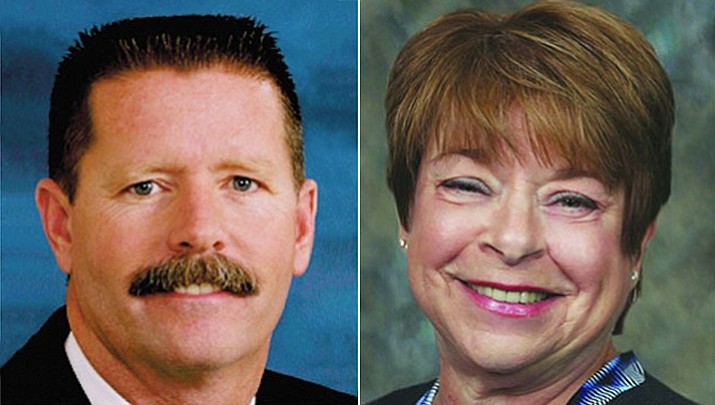 Originally Published: August 14, 2017 5:59 a.m.
KINGMAN – Two former Arizona state senators are seeking to replace Steve Moss on the Mohave County Board of Supervisors.
Former state sens. Ron Gould and Sue Donahue have thrown their names into the hat for Moss' seat, which became available when Moss was appointed as a Mohave County Superior Court judge last month. Also in the running are Robert Wylie of Lake Havasu City, Frank Jacobs of Bullhead City, and Lois Wakimoto of Mohave Valley.
The Board of Supervisors will hold a special Aug. 28 meeting to interview each candidate, and subsequently are expected to make their choice on Sept. 5.
Sue Donahue worked under Supervisor Buster Johnson for 13 years, and hopes to bring her experience in county administration to the seat of Mohave County's 5th district. Donahue ran against Moss in 2012, and again in 2016. While she can't say whether she'll run again in 2020, she believes she has much to offer the Board of Supervisors.
"I bring experience, conservatism and a passion for my constituents," Donahue said. "With my experience in the county, I'm confident that I can step right in and do the job."
According to Donahue, Lake Havasu City residents may be lacking representation on the Board of Supervisors. "Half of Lake Havasu City is in District 5," Donahue said. "Some county funds could be used for the city or the surrounding area. But more importantly, we need to tighten our belts – our budget is out of control. We need to limit excess spending. Paying attention to what your constituents want is the most important part of the job."
Whoever wins, former Supervisor Moss has high hopes for the board. "I hope someone will be appointed who will look after the county, and work with other supervisors in addressing the county as a whole," Moss said.
"A lot of the issues the county was dealing with when I left were countywide – the pension debt and law enforcement issues," Moss said. "I hope the supervisors can find consensus in dealing with those issues."
Gould brings political experience of his own to the Board of Supervisors, however. A four-term senator of Arizona's 3rd district, Gould had been named "Arizona's Most Conservative State Senator" by organizations such as the Goldwater Institute.
Gould has served on the state Senate Appropriations and Finance Committees, as well as the Senate's Water, Land Use and Rural Development committee.
Attempts to contact Gould by telephone were unsuccessful as of 5 p.m. Thursday.