Originally Published: August 16, 2017 5:55 a.m.
KINGMAN – The Kingman Police Department is requesting the public's help to identify suspects in a Kmart burglary early Monday morning.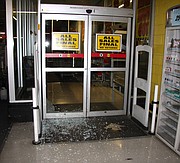 According to police spokeswoman Jennifer Sochocki, officers responded to an alarm shortly after 2:30 a.m. at Kmart on East Andy Devine Avenue. Officers arrived and found the two front glass doors smashed out. They also found the glass jewelry cases had been smashed and various pieces of jewelry stolen. 
Video surveillance shows one subject, possibly wearing a black or dark colored hoodie style sweatshirt and white motorcycle helmet and gloves, enter the store. A second subject is shown wearing a black short-sleeve shirt, red and gray motorcycle helmet, and gloves. The jewelry theft took approximately 20 seconds. The value of the stolen items or the monetary amount of damage is not known at this time. 

Kmart is scheduled to close its doors by early October and has been liquidating merchandise. The store reopened for business Monday. Video surveillance has not yet been made available by KPD.
Anyone with information is urged to contact the Kingman Police Department at 928-753-2191, report anonymously to Mohave Silent Witness by calling 928- 753-1234 or report tips online by going to www.kingmanpolice.com and clicking on "Give a Tip."  You can also report through the KPD App, which is available free through a smartphone App Store.