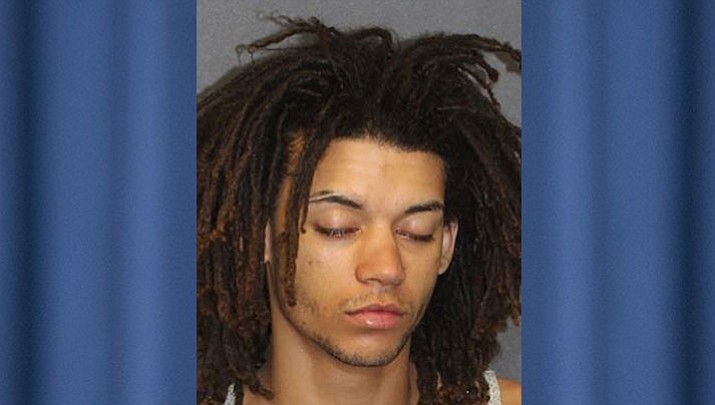 Originally Published: August 16, 2017 5:55 a.m.
KINGMAN – No one was injured when a Kingman man fired a shot at a house from a vehicle during an argument Monday night.
Kingman Police arrested Shawn Derrick Bell Jr., 20, on felony charges of drive-by shooting, aggravated assault with a deadly weapon, misconduct involving weapons, endangerment-risk of physical injury, disorderly conduct, and unlawful discharge of firearms.
According to police spokeswoman Jennifer Sochocki, the arrest stemmed after police responded to a report of gunfire from a vehicle leaving the area in the 1700 block of Airfield Avenue. Officers had seen the suspected vehicle turn east onto Hualapai Mountain Road from Andy Devine Avenue and stopped it on Hualapai Mountain Road.
Officers talked to and detained the driver, a 21-year-old woman and owner of the vehicle. She was released after police determined she was not involved in the incident.  Officers took Bell, a passenger, into custody. They reportedly located a gun, knife, and clothing in the vehicle, which was allegedly used and worn by Bell during the incident.
The investigation revealed that Bell had asked a 47-year-old man at a home on Airfield Avenue if he could talk to one of the homes occupants. Bell was asked to leave and allegedly pulled a knife and threatened the man during a verbal altercation. He then left the house, jumped in the car and allegedly fired a shot toward the victim as they drove away.
Bell reportedly admitted no involvement and was booked into the Mohave County jail without incident.