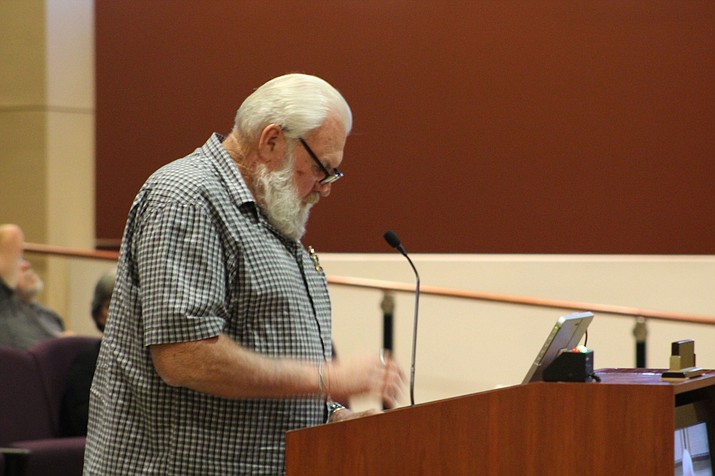 Photo by Aaron Ricca.
Originally Published: August 21, 2017 5:58 a.m.
KINGMAN – Before Arizona Town Hall could conclude its efforts in gauging the residents of Kingman and their thoughts surrounding the planning and implementation of a strategic economic development program for Kingman and before the City of Kingman hires an economic director, City Council hired an economic consulting firm at Tuesday's meeting.
Council voted 6-1 to hire Chabin Concepts out of Chico, California. Chabin beat out six other competitors for the contract that is scheduled to have a fiscal impact between $53,000 and $74,520.
Mayor Monica Gates was the sole councilmember who voted against awarding Chabin a contract. Gates said it was only because of timing, as she wanted council to wait until an economic developer was on the payroll.
Kingman resident Doug Dickmeyer wasn't impressed with the direction council took. Before the vote, Dickmeyer quoted Albert Einstein:
"Insanity is doing the same thing over and over again and expecting different results."
Dickmeyer said over the years he has seen the City of Kingman spend millions of dollars on consultant firms to bring new business to the city.
"They do bring business to the front door," Dickmeyer said, "but when they look inside they don't want to come."
Chabin Principal Vickie Doll gave a presentation to council, as did a representative from The Natelson Dale Group. These two firms were named finalists by city staff. Natelson was thought to have the most professional proposal and has been involved extensively around the state.
Chabin did work with Lake Havasu City and was less expensive than Natelson.
Councilman Travis Lingenfelter brought the approved motion to the floor, and Councilwoman Vickie Kress seconded it.
City Manager John Dougherty said there were 22 applicants for the economic development director position this round. That number was whittled down to seven for interviews via Skype, and the final selection should come sometime in mid-September.