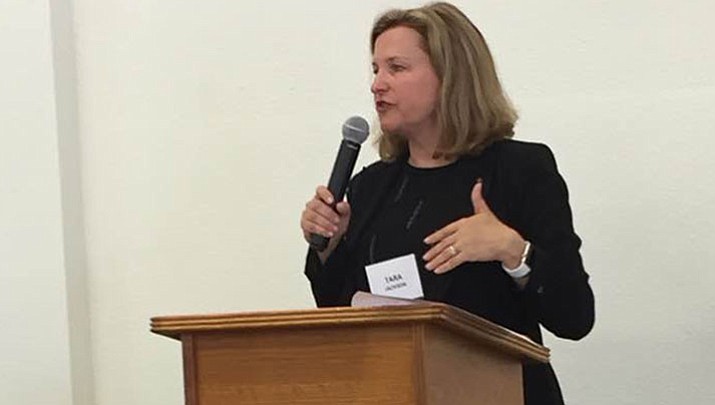 Originally Published: August 23, 2017 5:55 a.m.
KINGMAN – The GenK Arizona Town Hall Community Collaboration Session was fruitful, according to those who were at the Last Chance Readout Monday. Nearly all of the 15 people in attendance agreed that the energy and momentum taken from Saturday's session needs to be continued.
"There was a tremendous amount of energy. And my take is that that energy is hungry for change, hungry to take that step forward," said Robert DeVries, chief of the Kingman Police Department. "The energy now is stronger and higher than it has ever been."
Saturday's session focused on Kingman's unique attributes and economic strengths, as well as opportunities to grow the economy, improve education and the local workforce, manage the water supply and increase community engagement and improve the quality of life.
The consensus is that over the next 20 years, Kingman residents would like to see long-term, strategic growth that is supported by a water management plan leading to the expansion of downtown businesses and festivals, road improvements and a thriving arts community.
"We need to look at this as a blank canvas," said community member Steve Wagner.
City Council member Vicki Kress said she doesn't believe finding the motivation to move forward will be difficult. She said the positive energy will keep it moving orward. Kingman Regional Medical Center's Brian Turney said it is the unified approach and follow through that will be key while continuing.
"As I take a look at the community, I've seen enormous change," Turney said. "We've made some progress, but there is still a lot of work to do."
The consensus of those at Saturday's session was touched on at Monday's read-out. Tara Jackson and Evelyn Casuga of Arizona Town Hall said Kingman is a town with several great attributes. Casuga said Kingman has more assets than any of the communities she has worked with.
"Need to get the interchanges built, need the economic development … We are a tourist town, but we don't act like it," real estate agent Mike Wagner said.
Casuga said it is important to bring the information to the town, inform citizens what goes on around the community. Towns used to be resource based, but now they are workforce based and it's important to bring in the Millennial workers, Casuga said.
"Millennials don't necessarily want the job," she said. "They want the lifestyle."
The same growth that will make tourists stay longer is what will make young people move and stay here.
Casuga said Stockton Hill is "Generica." It is an area that can be seen anywhere in any state and any town.
"Your downtown is what makes you special," Casuga said. "That's your heart and soul right there."
Jackson said it starts with everybody being an ambassador. The people who see hundreds of visitors a day being friendly to a stranger, locals walking down the street and reaching out to tourists, those people are the best ambassadors.
"Let's start the culture building with ourselves," said Chamber of Commerce President Gregg Martin. "This is not Andy Devine's Kingman. It has become much, much more than that."