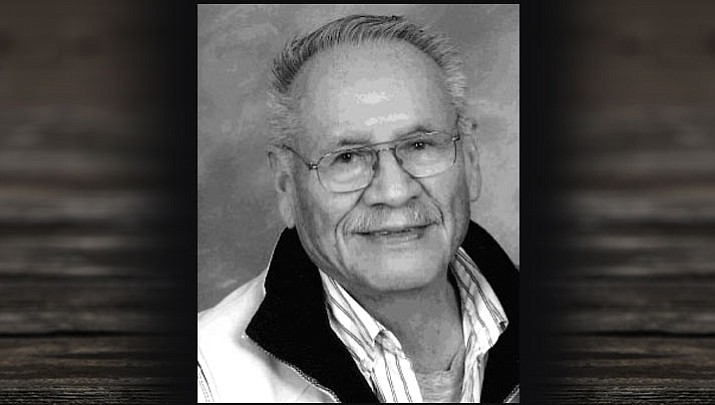 Originally Published: August 24, 2017 6 a.m.
Tom C. Claw, 84, passed away peacefully surrounded by his family on Friday afternoon, August 4, 2017, at Kingman Regional Medical Center in Kingman, Arizona. He was born to Fred and Alma (Manygoat) Claw on February 2, 1933, in the Black Mountain area of the Navajo reservation near Cow Springs, Arizona. Tom attended boarding school and the Chilocco Indian School in Oklahoma. He also helped his family take care of their cattle and sheep.
Mr. Claw was a long-time resident of Kingman. He is survived by his wife, Ernestine (Clark) Claw and they were married for 58 1/2 years; children; Sonja, Herman, Van, Doreen, Monte, Tony, Phillip, Dakota; grandchildren; James, Joshua (deceased), Thomas, Joseph, Chelsea, Dominic; sisters; Lillie Begay, Mae, Jean, Lorraine Lee, and brothers; Sam, Ben, John, Kee and Thomas.
Sixty-plus years of work experience, including working on the railroad for Santa Fe, where he enjoyed traveling throughout Arizona, Illinois and Kansas. Then, he worked in the Engineering Department for Duval Mine as a surveyor. When the mine closed in 1981, he along with hundreds of other workers had to find a new job, which was not easy to do, especially when you are almost 50 years old and have to provide for a large family. So, Tom did temporary jobs until he found work at Tucker Housewares as a machine operator making plastic products. When Tucker closed, he became a custodian for the Kingman Unified School District at La Senita School until he officially retired in 2014, when he was 81 years old.
Some of his favorite activities included cooking, "cheering" on (yelling at) his Dallas Cowboys, viewing old black and white Western movies and going to concerts performed by his favorite country western artists like Dwight Yoakam and Willie Nelson. He was also a fan of Elvis Presley, boxing and professional wrestling. Tom was a creature of habit and had a daily routine, so it was not uncommon for him to go to the grocery store every day. He always spoke of being on time, working hard and doing a good job, so it was no surprise that he kept working as long as he did. We loved him so much and will miss his gentle smile, endearing personality and humor. He was an awesome man, who did everything for us and expected nothing in return. Until we meet again, Daddy … what a joyous day that will be! John 14:1-6.
A Celebration of Life will be held at 10:30 a.m. Saturday, Sept. 2 in the Hualapai Multi-Purpose Building at the corner of Diamond Creek Road and Hualapai Way in Peach Springs, Arizona.
Please join us to share your memories and visit with the Claw and Clark families.