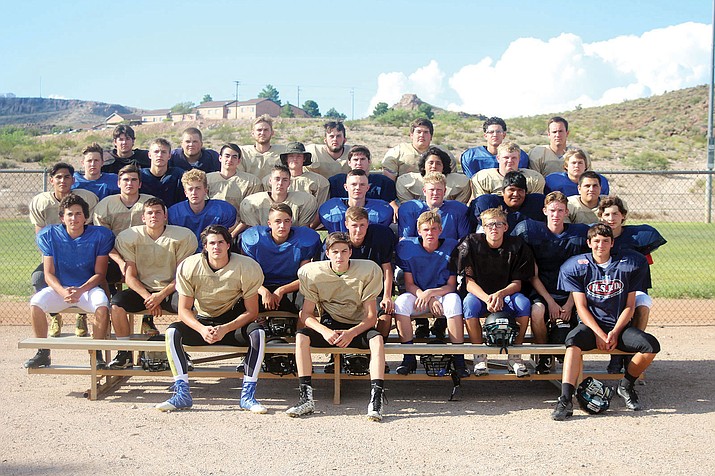 Photo by Beau Bearden.
Originally Published: August 25, 2017 6 a.m.
KINGMAN – If all goes according to plan, this will be a breakout season for the Kingman Academy High School football team. The Tigers not only return a number of starters from last year, but they also feature a strong senior class.
"We're excited to roll," Kingman Academy football coach Dan Stroup said. "The kids are a good group – they're tight. And it should be because this is the senior class that I came in on when they were freshmen. I'm excited. The (assistant) coaches are doing a fabulous job. I set the culture of how we do things, but they enforce it. They're the unsung heroes."
The Tigers return eight starters on offense and six on defense from a team that went 4-2 in the 2A Central, finishing second. While it's a good sign for 2017, Stroup mentioned that it doesn't mean they will all keep their spot.
"It is nice to have returning players that have all that experience, but we never look at the first day's lineup and that's it," he said. "We're always looking to develop the kids."
The Academy will still lean on a number of its returners, highlighted by four on the offensive line along with a Tiger that plug-started a few games last season.
That isn't the team's only strength though.
"Our quarterback and receiving crew is definitely up there," Stroup said. "We go deep – six guys can rotate within our spread package. It's pretty nice where you take one kid out and add another kid. He just has a different skill set, but he's just as good."
Stroup, however, is unsure of how the Academy will fare implementing a new 3-5-3 defense.
"I would say just not running that defense for real is always nerve-racking," he said. "I've ran two or three defenses for 32 years and that's it. Now because of necessity of our personnel, we've moved to this and we're hoping we can execute it."
Stroup added that the defense works well against the spread and the Tigers play six teams that run that offense.
With that said, the Academy will quickly find out how it stacks up to other teams due to a wide variety of competition.
The first test is at 2:30 p.m. today against Bourgade Catholic at the NAU Walkup Skydome. While Stroup said the Tigers are looking forward to that game, he said the Sept. 29 home contest against Parker is one to watch.
"Parker has beat us three years for me and they beat them the previous year," Stroup said. "They're 4-0 against the Academy right now. They've been tough games, they're well coached and their kids play extremely hard. That is an exciting game."