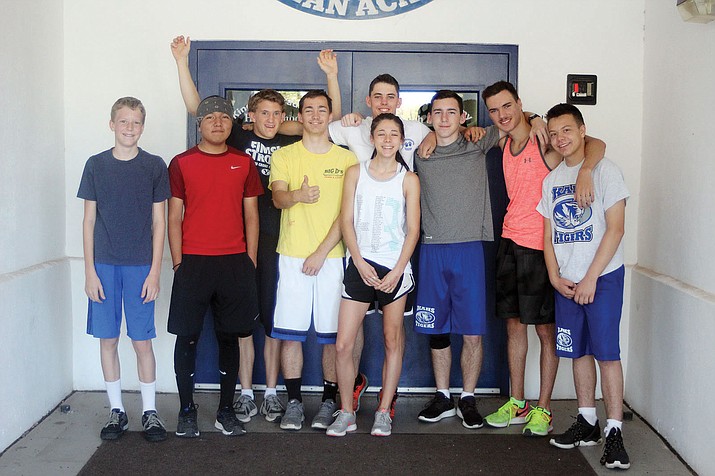 Photo by Beau Bearden.
Originally Published: August 25, 2017 5:58 a.m.
KINGMAN – Experience won't be an issue this season for the Kingman Academy High School cross country team. Head coach Robert Skankey has talented runners along with some new additions that are sure to shine in 2017.
"We have a good senior class that has a lot of experience," he said. "They'll be really good at educating our newbies, as I call them. At this point, we actually have a good quality spread. We have a good upper class and if I can keep our underclassmen going, they'll be the future."
Kingman Academy is welcoming two freshmen and a senior to its squad, but Skankey said he hopes to get a few more runners during the practice season. That time is short though, as school didn't start for the Academy until Aug. 14 and the first meet is the Lee Williams Multi Sept. 6.
If Skankey can add runners, it will help out due to the fact that the Academy usually has a wide gap in talent.
"Historically, we've had a couple of really fast ones and then everyone else is super slow," Skankey said. "That slow group that we've had is actually improving quite a bit. So I've got high hopes this year we'll be able to compete as a team."
Skankey hopes by closing that gap the Academy can compete as a team rather than just as individuals. While the Lee Williams Multi is the first opportunity to see that, Skankey is looking forward to the Academy sponsoring its own meet Sept. 27 that will feature one-mile loops.
Skankey decided on this to give a better viewing experience.
"It just gives the spectators something to see," Skankey said. "It gives us coaches time to say, 'You're on time or you're behind,' or 'You're doing really good, keep it up.' I'm hoping people will appreciate that and want to keep coming back."
Skankey added that the meet will be free this year, but he hopes to grow it over the course of the next couple of years.
With that said, Skankey also sees a bright future for the Academy cross country program over the next couple of years.
"One of our runners, Sam (Skankey), should be competing for No. 1 in the county," coach Skankey said. "It's his senior year, so it's his time. There is also a lot of potential that I see, runners that should be competing for county in a year or two. I'm really excited about the team."