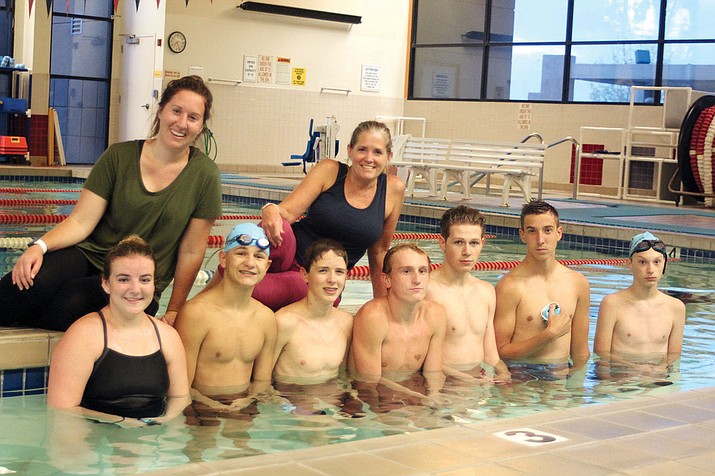 Photo by Beau Bearden.
Originally Published: August 25, 2017 5:57 a.m.
KINGMAN – Entering her fourth season as head coach of the Kingman Academy High School swim team, Teri Rose has yet to have a swimmer not qualify for the final day of regionals. This has always been a goal for the Academy and that won't change this year.
"I take 100 percent of my kids to finals, regardless if its six or 12 swimmers. They all go," Rose said. "So it's been exciting that we can maintain that. I'm hoping that we can maintain that again this year – have everyone who comes in qualify for day two of regionals."
While the Academy hasn't necessarily featured large teams in the last three seasons, Rose expects that to change over the next two years.
"I expect this year probably to be one of our biggest," she said. "Next year will be quite large, we're going to get a lot of swimmers from the middle school."
However, the girls program this season won't feature as many swimmers due to Lady Tigers graduating a number of seniors last season. It was an even bigger loss for Rose due to the fact that they were club swimmers that started in the sport before joining the Academy.
"I've been coaching them since they were young kids," Rose said. "It's hard to lose them in that manner. Those kids were on the team for the three years that we've had the team."
With that said, the returning swimmers still have high expectations for 2017. Nic Depner made it to state last year, but is looking to improve on his finish.
"I was in the 'B' final and I'm looking forward to getting into the 'A' final," he said. "Hopefully top five maybe. That's a goal I'm trying to set this year."
Fellow Tiger Kaden Bean, meanwhile, plans to just keep working hard in the pool after his first year on the team last season.
Callie Wright also wants to do well, but she is no stranger to the pool. Wright started swimming at a young age and doesn't look too far ahead.
"I don't really shoot for long-term goals," she said. "I want to do well and then we'll take it from there. I'm really hoping to get to finals at regionals this year. State would be awesome though."
However, advancing to state is easier said than done in Division III. Rose said there are no time standards until next year. So Academy swimmers have to place in the top 24 to advance to state, while the top 32 advance in Division I and II.
Luckily, swimmers get four invitationals to qualify for state. This year, Kingman Academy will host a meet on Sept. 9 that is scheduled to have 15 schools.
"It's a really big deal to host a state qualifying meet," Rose said. "… It's really exciting for Kingman and the Academy really looks forward to it."