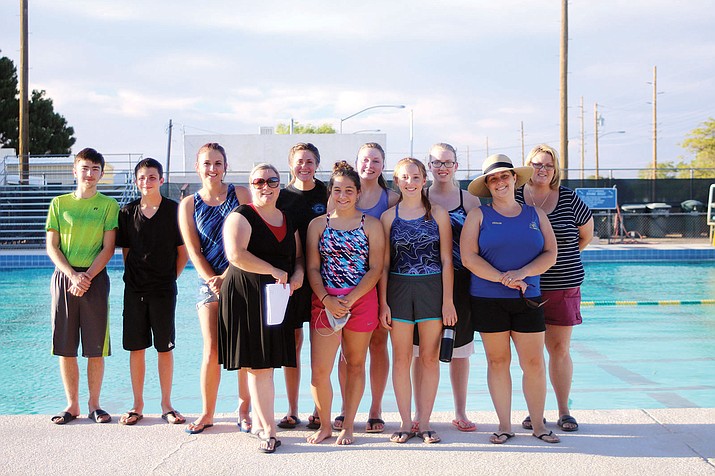 Photo by Beau Bearden.
Originally Published: August 25, 2017 5:57 a.m.
KINGMAN – The Kingman High School swim team graduated all but two swimmers from last year's team.
That would usually prove worrisome, but head coach Jerusha Presnal is instead focused on the tight-knit squad.
"We have a very, very close team," Presnal said. "We build close relationships, which is great. We do have quite a few more swimmers than we did last year."
The new additions are sure to help build Kingman's program and Presnal is glad she has help this season.
"I actually have two assistant coaches, which I haven't had in the past," she said. "We had swimmers last year and only one coach, so I'm expecting great things because we have a lot more hands on deck to help them."
Along with new faces comes a new practice location at Centennial Park. Presnal mentioned it'll be great because the team can avoid 5 a.m. practices. Kingman will also have the benefit of practicing in the same pool as the Sept. 9 Northwest Arizona Invite, which is hosted by Kingman Academy.
At the end of the day though, Presnal is focused on making sure every swimmer is giving their all.
"My expectations for my athletes are that they are all in and they put 100 percent effort out there," she said. "If they do that, then I'm happy with whatever they do."