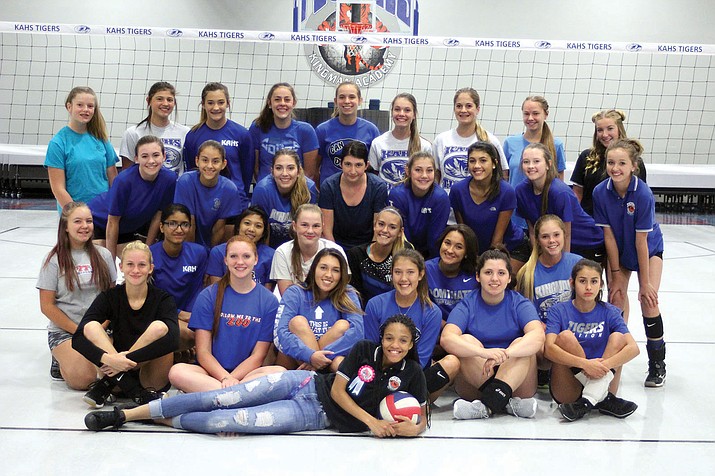 Photo by Beau Bearden.
Originally Published: August 25, 2017 5:59 a.m.
KINGMAN – Bill McCord may only have a few weeks under his belt as Kingman Academy volleyball coach, but he has already found the area he will focus on this season.
"What I see and I notice is we need to get the girls to play together," McCord said. "When they played together last year, they played really well. If they start falling apart, then the whole couple of weeks fell apart. So we're going to work on that. That's going to be my priority – getting them to play as a team."
McCord added that the Lady Tigers are aware of this fact and that has helped the team work toward making sure it doesn't happen in 2017.
However, Kingman Academy will have to do it without three players it had last season. Cierra Brown and Kyla Brown graduated, while Breanna Weber moved away.

McCord isn't worried though.
"We have a lot of returners," he said. "Several of the girls play travel ball and it's very evident when you watch them play. There's some pretty much shoe-ins already. But there are spots that need to be filled on varsity and we see some good things."
The Lady Tigers won't have an issue with numbers either, as McCord plans to have a varsity, junior varsity and junior varsity 'B' team. He also mentioned there could be one or two freshmen that might make the varsity squad.
With those decisions aside, McCord knows the Academy needs to make sure it doesn't encounter some of the same issues it dealt with last season.
"Last year we did fairly well leading up to our region and then we tanked it," he said. "I think we played some tougher teams before we got there. Three of the teams in our region made the playoffs last year and were pretty high, in the top 10 or 12. So we have some work to do."
McCord hopes that last year's 3-7 mark in the 2A West Region will give the Lady Tigers motivation to change course. To that end, the Academy will lean on its power to win games.
"The offense is our strength – we have some good strikers," McCord said. "It's the defense that we have to work on. But we have some good leadership and some girls that play ball."
That experience is also an area that McCord hopes pays off for the Lady Tigers, especially because there isn't much time to waste with the season opener set for Aug. 29 vs. River Valley.
"You want those older kids, the ones that are more talented and more experienced, to bring those other players up to speed," McCord said. "We're not going to make a lot of changes, because these girls know what they're doing. We just want to work on our teamwork."
More like this story